Deshaun Watson, QB, Clemson

.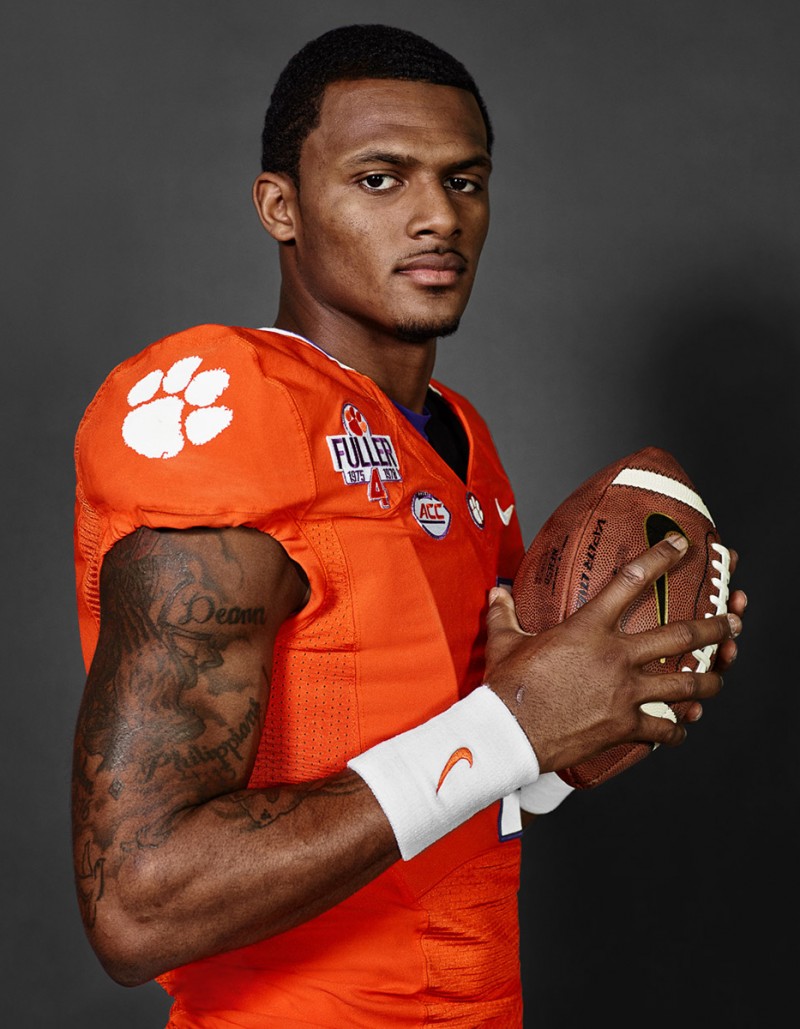 Watson was dominant in the CFB Championship Monday, so scouting reports start now. 6'2" and 210 pounds, he's a bit small but it will work for now.
Competitive, confident player who can lead a team with his physical attributes and willingness to work on his craft. Being a leader is a big deal in the NFL and Watson is a very big one for Clemson, and that will also likely transfer to the Pro Level. Possesses a quick delivery, can get the ball downfield or move a team methodically by making quick decisions, though some of these decisions may not always be the best.  Has improved his accuracy greatly during his career, though it still has some ways to go. Fires throws into tight windows over the middle while also leading receivers open on the sideline and showing touch on fades into the end zone. Generally, keeps his eyes downfield and feet moving within the pocket to find a target instead of looking to run, though he has a bad habit of staring his receiver down before he throws it.  Finds second or third options across the field if the first read is covered. Tests defenses with his ability to get first downs and more with his feet has speed to break off big runs and usually makes the right decision on when to take off. With pressure coming from around the edges at him, Watson too often stepped backward instead of into the pocket.While he often moved around in the pocket properly, the backward movement arguably has the greatest negative impact on his accuracy. It led to Watson throwing off his back foot, taking velocity off the ball.
The velocity on Watson's deeper throws can cause pause. Like many college quarterbacks, he will rainbow his throws instead of throwing them on the proverbial rope. He isn't as guilty of it as other quarterbacks, but it's there. Watson would be much better off if he put more zip on his throws.That deficiency is particularly noticeable on sideline throws to the left. Has gotten physically stronger over the course of his career, is a tough player who will hang onto the ball after getting hit and will get right back up.
Deshaun Watson has bad footwork in the pocket, never stepping up in the pocket when it's needed and rolling out more than he should.He will step back from pressure instead of stepping up or rolling out.  His accuracy is very spotty as well. He can make some phenomenal throws and then turn around and completely miss his target. His deep ball shows potential but rarely does it hit its mark, though in the short game he possesses very good accuracy. Watson is very inconsistent in making his reads as well. Sometimes he will stare down his receivers and other times he will go through multiple receivers before making a good throw.  Has no fear in giving his receivers 1 on 1 shot at catching a ball, which is a huge + trait for me and my offense.
There is a lot to like with Watson. He passes the eye test pretty easily. His arm is good enough, his size is good enough and his release is quick. But beyond the stats and the immediate measurable tools, there are some flaws in Watson's game. He's the best quarterback in the 2017 NFL Draft, but he's not as clean of a prospect as those before him. I would take him in the late 1st or early 2nd, and his pro comp to me is Matt Ryan. It's a little challenging finding a direct comparison for Smith since he's coming out of Clemson's Air Raid offense. So instead of a pure traits-based comparison, this one is done more so on expected career arc. Like Ryan, Watson is the best quarterback in his class but won't be the first overall pick. It may also take some time for Watson to come into his own in the NFL. He'll probably never be compared with the top-tier quarterbacks in the NFL, but he should be good, dependable signal callers.