What does the 2018 QB market look like?
Just because Kyle Shanahan and the 49ers traded a R2 pick for Jimmy Garoppolo doesn't necessarily mean that they have to re-sign him this offseason with a massive deal. There's always a chance that they pull a Charles Grodin/Ben Stiller Heartbreak Kid move and fall in love with someone else while on their honeymoon.
That said, it's still overwhelming likely that they will re-sign Garoppolo. Shanahan knows quarterbacks, and wouldn't make this move without the intention of following it up with a contract. And if/when that happens, it takes Jimmy Garoppolo off the market.
For all those QB-needy teams (and there are a LOT of them), here's the best of the rest among free agent quarterbacks.
Clear starters
Drew Brees, New Orleans, age: 38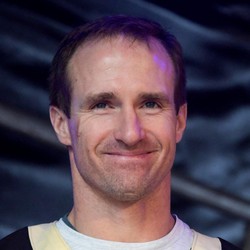 Drew Brees continues to sling it like a superstar and appears to have enough life left in his arm to thrive through his 40th birthday, a la Tom Brady. Teams will presumably sign him to a mega-money, 2-year contract.
Staying with the Saints makes the most sense for both sides. Brees benefits from the situation there: both with the continuity of knowing Sean Payton's offense and from playing in the friendly confines of a dome. The defense is also improving enough lately to vault them back into true contender status. But if there's been too much resentment bubbling up under the surface that leads to a divorce from the organization, Drew Brees pulling a Peyton Manning and finishing in Denver may be the smartest way for him to land his second Super Bowl title.
Kirk Cousins, Washington, age: 29
Given his age, you can make the case that Kirk Cousins should be listed first on this list. He's certainly going to get the highest contract, worth $100+ million in listed value.
Losing San Francisco and his old coordinator Kyle Shanahan as an option hurts Kirk Cousins leverage to some degree, but there are still plenty more QB-needy teams that can offer him major cash. Again, I'd encourage Cousins to stay with the Redskins. He's thriving in Jay Gruden's offense, which takes advantage of his best skills and his accuracy in attacking the middle of the field.
Maybe starters
Sam Bradford and Teddy Bridgewater, Minnesota, age: 29, 25
The biggest question marks with these Minnesota quarterbacks is a matter of health. I originally thought Sam Bradford would recover and be back to 100%, but Vikings fans here on Reddit stressed to me how dire his injury situation is right now and how much mystery hangs over it still. And while Teddy Bridgewater is on the opposite end of the spectrum and nearing a return from injury, he still represents a durability risk himself.
Both Bradford and Bridgewater can be starting quarterbacks if they're healthy. Whether you want to pursue them depends on how much you trust the medical results, and your medical staff as a whole.
A.J. McCarron, Cincinnati, age: 27
During the draft process, A.J. McCarron got lumped in with other limited "game manager" Alabama quarterbacks and fell to R5. He's better than that. McCarron has mediocre arm strength, but he's an accurate passer and has a natural confidence/swagger that won't shy away from the moment. If he turns out to be Andy Dalton, then that's not such a bad fate; Andy Dalton has started and won a lot of games in the NFL.
As a restricted free agent without many starts under his belt, McCarron's market may be lukewarm. However, he'd fit in as a possible starter for certain teams that need a young QB but may not land in the top 5 in the draft. Arizona, the Jets, Jacksonville. The Jaguars appear like the best fit on the surface; McCarron won a lot of games at Alabama by managing turnovers, handing the ball off, and trusting his dominant defense.
Unlikely starters
Blake Bortles, Jacksonville, age: 25
The Jaguars made news earlier this summer by "picking up" Blake Bortles' fifth year. However, as far as I understand the situation, they can still opt out of that and make Bortles a free agent this offseason.
They should. This team is too damn good everywhere else to deal with the Blake Bortles roller coaster every week. I imagine they'll only bring him back if they can't find a reasonable alternative. If Bortles leaves Jacksonville, there's a chance that he'll compete for a starting job elsewhere. He's still young, after all, and has a few gaudy raw stat totals here and there.
Mike Glennon, Chicago, age: 27
Like Blake Bortles, Mike Glennon has a contract with the team for 2018 (and 2019, in his case). However, it's not only "likely" that Chicago will opt out of the deal, it's almost guaranteed. The Bears can cut Glennon with a very modest penalty ($4.5 million in dead cap). He's far too expensive right now to play caddy to Mitchell Trubisky for two full years.
Will Mike Glennon ever get handed a starting job again? Probably not. But some desperate team may bring in Glennon and allow him to compete for a starting job.
Tom Savage, Houston, age: 27
Like Mike Glennon, Tom Savage had his best (and perhaps only) opportunity to be a starting quarterback this year and blew it even faster than Glennon did. Poor Savage has always struggled to lock down starting jobs, even dating back to his college days.
In Savage's defense, his horrific Week 1 was against Jacksonville. At the time, that was, even more, reason to laugh at Savage's incompetency. In hindsight, his struggles were a little more understandable.
That said, I sincerely doubt we'll ever see Tom Savage the starter again. However, like Glennon, there's an outside chance that he's allowed to compete for a starting job somewhere, given his age and arm strength.
Bridge quarterbacks
A "bridge" quarterback is the media-friendly term for a stopgap starter; that is, someone that a team is only trusting for 1 year.
Carson Palmer, Arizona, age: 37
Technically, Carson Palmer is under contract with Arizona for next season. However, the team can cut him for a modest penalty ($6.6 million) if they feel like he won't be able to snap back into form and play like a winning starting quarterback.
But if Palmer decides to return in 2018, he should be able to start somewhere, even if he's downgraded to "bridge" status.
Josh McCown, N.Y. Jets, age: 38
Josh McCown has been a great bridge quarterback for the Jets this year. In fact, he may be too good, because he's driving their draft pick out of the top 5.
Given his age, teams won't expect anything more than that same role for McCown next year, whether it's on the Jets or another team. McCown has an injury history as well, so there's no telling if his body will hold up until 2018 either.
Chase Daniel, New Orleans, age: 31
I've always been a huge Chase Daniel believer. In my mind, he could be a winning QB on the right team — sort of a poor man's Alex Smith. Early on in his career, the NFL appeared to agree with me. Despite no starting experience, the little man got huge money (relative to backup QBs) in Kansas City and then Philadelphia. But after struggling in Eagles' camp, teams have cooled off on him. He had to accept a contract this year for New Orleans that paid less than $1 million.
I'm sticking with my man Daniel, even if no one else will. I believe he'd be a great bridge quarterback for a team. In fact, I'd bet that Daniel would be more than capable as the starter in New Orleans if Drew Brees left: perhaps to the tune of 4000 yards and 25 TDs. On a bad team, he'd be more of a low-level starter.
Case Keenum, Minnesota, age: 29
Can you win games with a limited QB like Case Keenum? If you're as solid as Minnesota, yes you can. On bad teams (like the Rams last year), Keenum's flaws got amplified, but he's still a veteran that a team could trust as a bridge.
Brian Hoyer, New England, age: 32
After getting cut by San Francisco post-Garoppolo trade, Brian Hoyer is an actual free agent right now, although that may change within the day.
Hoyer struggled to play at Josh McCown-like levels with San Francisco this season, but he should still hang around the league for a while. Most likely, that will be as a backup QB (in New England), but there's always a chance that a team decides to utilize him as a bridge again.
Matt Moore and Jay Cutler, Miami, age: 33 and 34
If you've watched any Miami Dolphins' games this year — I'm sorry for you. The offense has been atrocious. But then again, no one who signs Matt Moore will expect him to carry the load for 16 games. You're only signing Matt Moore as a starter if you draft a stud QB in the top 5, and need someone like Moore for him to "beat out."
More likely, Moore will slide back into his more familiar backup role, and be halfway decent at it. As for Jay Cutler? I would expect him to retire, perhaps even before this season officially ends.
Trade-only options
Alex Smith, Kansas City, age: 33
The Kansas City Chiefs had a clear plan in mind after trading up and drafting Patrick Mahomes. They'd play Alex Smith as a bridge quarterback in 2017, and the most likely cut him and allow Mahomes to take over in 2018.
But Alex Smith had other plans in mind. He's played lights out all season long, registering a QB rating that's 20 points higher than his best on KC before that.
The Chiefs may still want Mahomes to take over next season, but they'd have to trade Alex Smith for that to happen. He's played his way into being a legitimate "asset" for them. I would expect a R2 pick is a fair price tag for Smith (who has one year left on his deal after this season), which would be fitting since that's what the Chiefs paid to get him in the first place.
Brett Hundley, Green Bay, age: 24
When Aaron Rodgers got hurt, I honestly expected Brett Hundley to play well and establish himself as a viable starting quarterback going forward. So far, that has not been the case.
However, Hundley still has 5+ weeks to put something positive down on tape. If he can, there's a good shot that the Packers can trade him to a QB-needy team that will give him a chance to compete for a job.
Jacoby Brissett, Indianapolis, age: 23
Like Brett Hundley, Brissett is getting the best chance of his career to make a career. He's played well at times but struggled more lately. He's going to have 8 more weeks to establish a market for himself, which would have to come via trade. He's locked into a cheap three-year deal that the Colts won't walk away from without solid compensation.
The QB class
Because this post is already so long, I'm going to avoid posting in length about all the draft quarterbacks. But suffice it to say, it's an interesting one. There are about 7 quarterbacks that a team may view as first-round talents: Josh Rosen (UCLA), Sam Darnold (USC), Mason Rudolph (Oklahoma State), Josh Allen (Wyoming), Lamar Jackson (Louisville), Baker Mayfield (Oklahoma) and Ryan Finley (N.C. State). But just as easily, a team may feel like none deserve a first round grade. It'll be interesting to watch going forward.