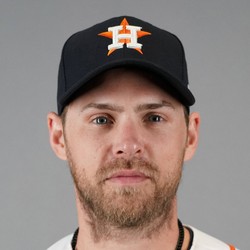 Since 2009, outfielder Josh Reddick has been winning over hometown fans with his quick bat and quirky personality. Now with the Houston Astros, the 30-year old has never looked more comfortable with his game, and in his own skin.
First debuting with the Boston Red Sox, Reddick struggled at the plate in his first two cups of coffee, hitting on the interstate in limited games. Though Reddick's bat didn't make the trip from Pawtucket, his glove arrived right away, and more importantly, so did his arm. It didn't take long for Red Sox fans to realize what they were dealing with in the outfield, a superb defender, regardless of his outfield position. Already, Reddick was a little different, just in his development. It's rare to see a player struggle so mightily in one area of his game while being as refined as Reddick was with his glove.
After starting the 2011 season in the minors, Reddick returned to Boston, and never looked back. Reddick returned with not only stronger numbers at the plate, but an aura of confidence as well. Reddick began developing into an enigma in Boston, a fan favorite for the bravado he took with him to every game in right field. Still developing at the plate, Reddick's .280 average in 87 games was enough to open the eyes of the league. Days before 2011 came to an end, Reddick's time in Boston came to an end, dealt to the Oakland Athletics for closer Andrew Bailey and outfielder Ryan Sweeney.
Years after the trade, it's safe to say there was nowhere more fit for Reddick's personality than Oakland. Reddick took the field just feet in front of Oakland's Bleacher Creatures, an affectionate term for the outlandish right field fans who come to the park equipped with costumes, face-paint, an assortment of colorful signs and instruments. With the new fan-base, Reddick also took to a new look, growing out his hair. Now, when Reddick would make those cannon throws in right field, fans would see his hair whipping around his face.
Reddick's arrival came with success for both he and the A's, a team years removed from any sort of success. In 2012, Reddick put together his then best season. After hitting just seven home runs with the Red Sox in 2011, Reddick made good in his first season as a full-time player, hitting 32 home runs with 85 RBI. Reddick flipped the script on his Boston numbers, where he hit for average with little power. His power came to Oakland, but his average dipped nearly 40 points, hitting .242 compared to .280 in 2011. Reddick's strikeouts also ballooned, jumping from 50 to 151, his only season with 100 or more strikeouts through 2017. Not only did Reddick open eyes with his bat in 2012, the league caught notice of his defensive prowess, enough so for Reddick to win a Gold Glove in 2012.
The A's also shocked the baseball world in 2012, winning the division from the back-to-back American League champion, Texas Rangers. Trailing in the division by three games with three to play, Oakland swept Texas, with Reddick at the forefront of the offensive attack. Oakland would lose to the Detroit Tigers in a hard-fought ALDS, but with Reddick, the A's felt they had a middle of the order power threat for years to come.
Though injuries caught up with Reddick in 2013 and 2014, the A's remained successful, and Reddick always had the support of the hometown crowd. Reddick came to the plate to Living Colour's "Cult of Personality", a song that represented both his larger-than-life character and his vocal love of WWE. Reddick changed his walk-up music a handful of times over the years, usually to other WWE themes, as well as George Michael's "Careless Whisper". Reddick's walk to the plate would always be met with a chorus of singers from right field, his fan club willing him on.
It was hard not to love a guy who wore superhero underwear, and a Spider-Man shirt underneath his jersey, symbolic of his climbing outfield walls to rob home runs. Though Reddick struggled at the plate in 2013 and for parts of 2014, you'd never know. The fans cheered for him like he was Reggie Jackson in Oakland, and the love went both ways. Reddick was known to join the fans for tailgating on some occasions, a Georgia native showing his southern roots. Reddick has always just been a fan at heart, and made a point to enjoy what's really just a game. If you show your love for the game, the game and its fans will love you back.
In his early seasons, Reddick was hard to define as a player. He went from hitting for average to hitting only for power, to not really hitting for either. Following his breakout 2012 season, Reddick's swing grew long, looking to replicate his home-run happy year. At his best, Reddick has never just been a home run hitter, but his placement in the middle of the A's lineup placed pressure on him to do just that.
After two subpar seasons, Reddick rebounded in 2015, both in health and productivity. He wasn't the 30-home run threat anymore, but he didn't need to be. No longer expected to provide the main source of thump in the lineup, Reddick quietly hit .272/20/77, and his career was back on track. After 2013, Reddick's batting average would increase every year, from .226 in 2013, to .281 in 2016.
After a four and a half year tenure in Oakland, once again a new team would take a chance on Reddick. In the midst of another playoff chase, the 2016 Los Angeles Dodgers would make a deadline deal for Reddick, sending him to Southern California. The A's faithful were crushed to see Reddick leave, but there's little doubt he'll remain one of Oakland's most popular players for decades to come. Reddick should never have to buy dinner in the city again, but considering the mutual admiration, maybe Reddick will be the one buying fans dinner.
Reddick never seemed truly comfortable in Los Angeles, and his numbers backed that up. Reddick hit just .258 in his time with the Dodgers, before hitting free agency in the offseason.
Although many coveted Reddick's talent in free agency, maybe more sought after was his charisma. A veteran now, Reddick has proven himself to be one baseball's best clubhouse guys, for his seamless ability blend grit with a love for the game.
That rare combination netted Reddick a 4-year/$52 million dollar contract with the Houston Astros, and he's fit in "H-Town" like a glove. Manager A.J. Hinch acknowledged early on that Reddick's personality wouldn't fit with every team, but aside from maybe the A's, it's hard to imagine Reddick gelling better with an organization than the Astros.
Reddick received a warm reception when he returned to Oakland in April, with the A's greeting him to "Careless Whisper" for old times sake, but by then he was already taking off with a member of the Astros. Reddick was even better than advertised in his first season with the Astros. Raising his average for the 4th consecutive year, Reddick slugged .314 in 2017, blowing away his career high .281, established a year earlier. Five years removed from his 32 home run season, Reddick hit 13 bombs in 2017, but still finished with 82 RBI in a stout Astros lineup.
When the Astros clinched the AL West title in September, Reddick was in the thick of the action. Donning an American flag speedo, Reddick danced (at times alone) in the clubhouse while being doused with champagne. It wasn't a sight for children to see, but it was completely in-line with the player Reddick has always been. Weeks later, Reddick delivered the go-ahead RBI single against the Red Sox, to clinch the ALDS. Reddick beat his former team not with a monster home run (which he is still capable of hitting), but a hard-hit single through the hole.
In 2017, Reddick has never looked surer of himself. His new home completely embraces his quirky country charm, and his team value has never been higher. In a team full of young stars, Reddick's veteran presence differs from teammates like Brian McCann and Carlos Beltran. Reddick will never be your prototypical veteran; he's been different since day one in Boston, and he knows it. He takes his game seriously, but that oddball nature has warmed him to fans across both coasts.
Baseball is often criticized for its cookie-cutter players, afraid to stand out from the pack, but Reddick represents the exact opposite. When you watch the Astros play, you notice Josh Reddick. Even if he's 0-4 at the plate, you'll see him at the top of the dugout steps, willing on his teammates. With his antics, Reddick isn't trying to steal the spotlight, it's just who he is. For that individuality, he should be applauded. With the big-money paychecks, it would be easy for Reddick to conform to whatever clubhouse he plays in, but at 30 years old, he's still just playing a child's game.