Tennis has an extensive history dating way back to the 11th century in France, where players first played with the palm of their hands. The actual scoring format originated at the first Wimbledon in 1877 where competitors played a best of five match (Wikipedia). The scoring is part of tennis history and should not be altered. Most tournaments are played using a best of three format with a few exceptions.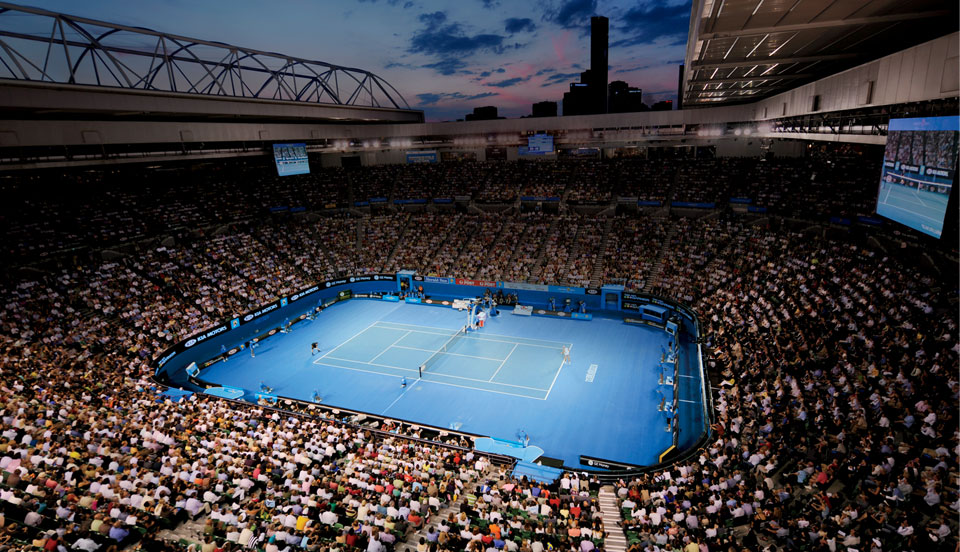 The tournaments that use best of five matches are: Australian Open, French Open, Wimbledon, US Open, Davis Cup, and the final of the Olympics. Why is the Association of Tennis Professionals (ATP) trying to change the format of the tournaments in the first place? Because the current generation has a significantly shorter attention span than that of the previous generations. They tend to want short and exciting matches where it is easier to predict how long a match will last, thus being more "TV friendly". The ATP should not change the format of matches to favor the media because the current format inspires exciting matches with more drama, it goes against the values of the sport, and it truly tests the players and their stamina and strength.
If you ask a tennis fan about their favorite match, some of the best and most memorable ones that come to mind are usually five sets and happen at Grand Slams where there is so much at stake. One example that comes to mind is the Wimbledon final in 2008 between Roger Federer (Switzerland) and Rafael Nadal (Spain).
It is often praised, and considered as the greatest match in tennis history because of their dramatic rivalry where Federer reigns on grass and Nadal demolishes on clay. Although I did not watch the match because I wasn't a tennis fan back then, I have seen the full match and I agree with people who highly praise it. Their level of tennis was unbelievable. Federer and Nadal exchanged fast-paced shots with unfathomable angles for over four hours. Nadal used his signature forehand to his advantage as did Federer with his elegant backhand.
However, these kinds of matches aren't too common and taking away a best of five format would really diminish their number. Rafael Nadal mentioned in an interview as a response to the shortening of matches: "The kind of matches that stay on (in) the memory and on the history of our sport are a little bit long matches and dramatic matches that become emotional" (SuperSport). I agree with Nadal's statement because I have experienced this myself as a spectator.
I have only attended three matches live in a stadium: an exhibition match between Stanislas Wawrinka (Switzerland) and Gael Monfils (France) at Madison Square Garden, Wimbledon quarter-finals between Roger Federer and Marin Cilic, and the US Open final between Novak Djokovic (Serbia) and Stan Wawrinka.
I consider myself lucky to have witnessed the quarter-final match between Cilic and Federer because it was one of the top matches I have seen. Nothing beats sitting in a stadium and cheering for your favorite player. The atmosphere is amazing because the stadium is filled with people who respect the sport and the people who play it. This is my favorite match after the 2008 Wimbledon described above. One reason is that it was filled with emotion and joy. When we got to our seats, Cilic was a break up in the first set. My brother and I were thinking: "that's alright, he will recover".
However, Cilic was playing some of his best tennis, and took a two sets to love lead. My brother and I were very doubtful of Federer making a comeback because of his age, and because of a lingering knee injury. Nonetheless, Federer ended up destroying the two set deficit. The 4th set was the hardest to watch because Federer was facing multiple match points. You could feel the tension in the crowd as Federer was only one point away from elimination and his hopes of an eighth Wimbledon title.
We were surprised and excited to see that Federer had pulled through and won the tiebreak, and followed up with an easy fifth set. The eruption of emotion in the stadium wasn't anything like I have ever seen before. Had the format at Wimbledon been a best of three, we wouldn't have gotten to experience such a dramatic comeback.
On the other hand, one reason why changing the format of the Grand Slams and other best of five tournaments listed above might be a benefit is that players are prone to more injuries and health issues after marathon matches. One great example of a marathon match was during the first round of Wimbledon in 2010. John Isner (United States) and Nicolas Mahut (France) set a record for the longest match ever played. It spanned over three days and over ten hours.
The reason why it lasted so long is that three of the four slams use a no-tiebreak fifth set which means that a player has to win by two games. The score for the final set of their match was 70-68 in Isner's favor. However, in his interview, he mentioned that although he isn't as tired as he thought he would be, he was mentally exhausted (YouTube). This caused him to lose his next match in straight sets. Additionally, he called the trainer multiple times during that match for neck and shoulder problems. Similarly, Nicolas Mahut had some problems in his doubles match, which caused him and his partner to lose.
Although these players had to take time off to recuperate, they were back on track in their following tournaments because they train to endure a high amount of physical activity. I see a typical season in tennis as a metaphor to school. The small warm-up tournaments (250s and 500s) are like homework assignments that are supposed to prepare you for the tests and finals which are like Masters and Grand Slams. We see Grand Slam champions as these titans who have endured so much to get to where they are. If Grand Slams were to adopt a best of three format, being a champion wouldn't have the same meaning as before. Players are supposed to use the full potentials of their bodies to win seven matches in a row and utilize all of the training they've received. In a Masters event, a player has to win six matches in a row, however, they are only best of three matches and that's why you hear "Masters Champion" less than "Grand Slam Champion".
Additionally, although some players would love getting six walkovers into the final and winning, a trophy and the title would not feel the same to a true and honest champion and it wouldn't be fair to their opponent, who worked tirelessly to get to the final.
In conclusion, I don't believe a change in the format of matches would be helpful in bringing in a larger group of spectators. It is exciting not knowing how long a match is going to last and of course, a fan wouldn't be able to watch an 11-hour match if they were working the next day but knowing that they witnessed part of a world record is already special enough. This format has been a part of tennis history since the beginning of Grand Slams and taking it away to accommodate viewers with short attention spans would really rob the true tennis fans of their joy.