The Flyers topped the Sharks in overtime

.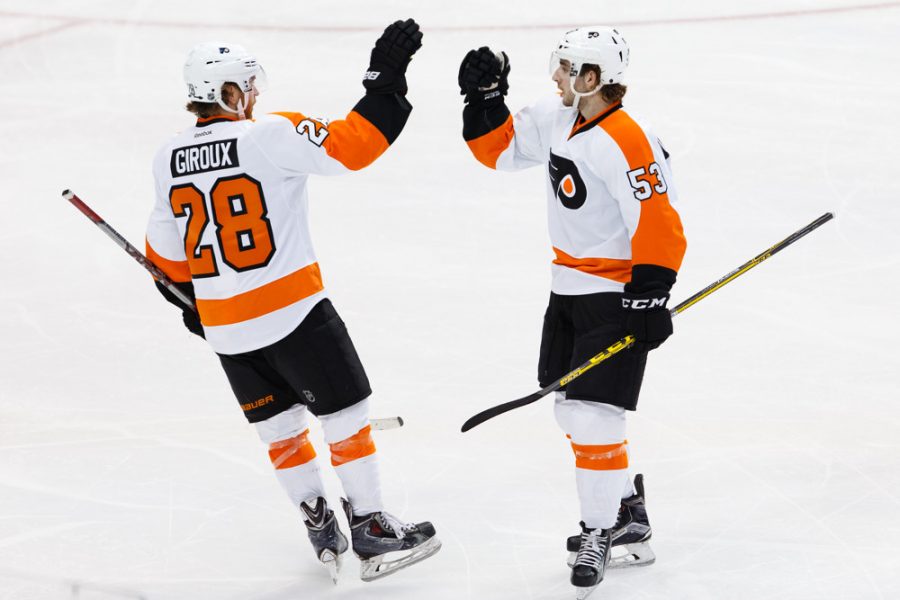 The Philadelphia Flyers finished off a 5 game homestand Saturday afternoon by giving the defending Western Conference champion San Jose Sharks their fourth straight loss. Things haven't been going so well for the struggling Flyers lately, as they'd lost the previous 4 home games in a row. Philadelphia earned only 3 points out of a possible 10 in their five straight home games.
The Sharks scored quickly in the first period only for it to be overturned for a goalie interference call on Kevin Lebanc. Wayne Simmonds has started to show signs of himself from a few weeks ago, with a goal in each of their last two games; including his first overtime game-winner against the Sharks on Saturday. Simmonds stripped Norris hopeful defenseman Brent Burns at his own blue line to burst into a breakaway, netting his 22nd of the year and the game for the struggling Flyers. The Flyers dominated the better part of the game, with Dell keeping San Jose in it for the most part. Rookie defenseman Ivan Provorov scored the lone regulation goal for the Flyers.Captain Claude Giroux has scored only 2 goals and 1 assist in the team's last ten games, including zero points in Saturday's contest.
San Jose has not looked too hot of late either, but they did receive stellar goaltending from backup goalie Aaron Dell in the loss to the Flyers. Dell made 33 saves on 35 shots including a beautiful glove save on Simmonds earlier in the game. During their four-game losing streak, the Sharks have lost 3 in overtime or a shootout, including one to the 29th place Arizona Coyotes. The Sharks will travel up from Philly to the Prudential Center and try their luck against the New Jersey Devils on Sunday.
As for the Flyers, their homestand has come to an end; but their final victory may be just what the team needed to get them back to their winning ways. They will make the western Canada three-game swing next, with Johnny Gaudreau and the Flames coming first in Calgary on Wednesday. They'll desperately need to earn some points against the west with Toronto tied with them in points with three games in hand, and the newly Doug-Weight-coached Islanders breathing down their necks only 3 points behind.