DeShone Kizer is NFL-bound

.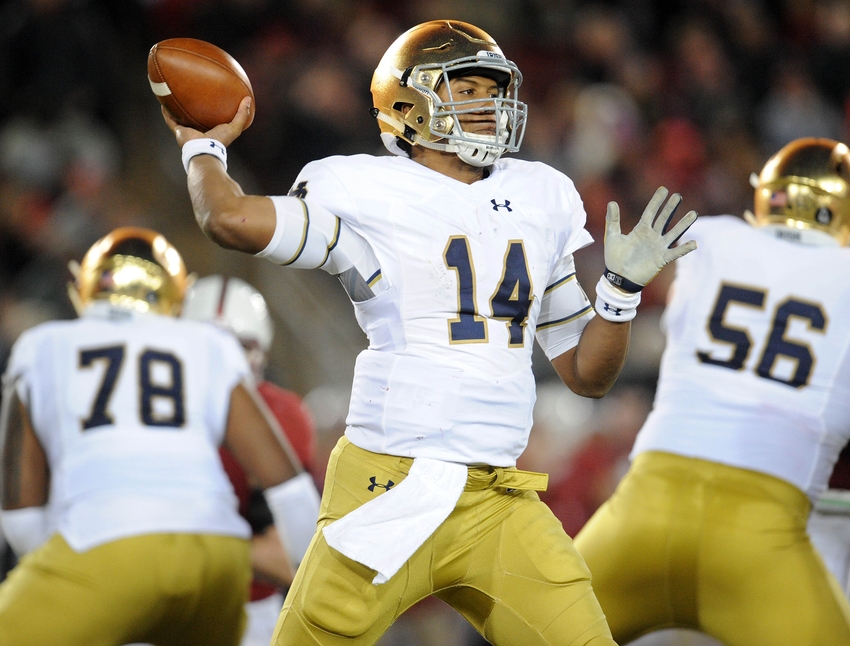 In a move that should come as a surprise to no one, Notre Dame quarterback DeShone Kizer has announced his intention to declare for the 2017 NFL Draft.
"Thank you. NFL bound," Kizer said toward the end of a minute-long video on B/R.
The 6-4. 225-pound Kizer took over as the team's starting quarterback the third game of the 2015 season when he replaced Malik Zaire, who had suffered a broken ankle in the previous game.
During his first start, Kizer tossed a game-winning touchdown pass and the position has been his ever since.
He's started 23 games for Notre Dame, leading the team to a 12-11 record.
The 20-year-old redshirt sophomore finishes his Notre Dame career 422-695 (60.7) for 5,805 yards, 47 touchdowns, and 17 interceptions.
Kizer has also run the ball 264 times for another 997 yards and 18 more scores.
Interestingly, he's also punted 3 times during his time at Notre Dame, posting a 39.3 average.
Kizer was named the team's MVP in a vote by his teammates at an award banquet on Friday.
Here's a statement from head coach Brian Kelly regarding Kizer:
"DeShone is an extremely gifted quarterback that was faced with a difficult decision," Kelly said Monday in a release. "He could return as a senior captain at Notre Dame — a place that he loves, and with a program that respects him immensely. Or, he could begin the next chapter in his life and accept the opportunity that likely awaits in the NFL.
"While he chose the latter, the type of leadership DeShone displayed this past season will benefit our program moving forward. He'll certainly be missed on and off the field, but we're very happy for him and his family. DeShone will always represent this University with the utmost professionalism and class."
He's leaving despite the consensus from draft analysts being that he could use another year in school to continue to improve his overall skill-set.
NFL Draft Scout ranks Kizer as the #3 overall quarterback prospect in the sophomore class, behind standout prospects Lamar Jackson from Louisville and Josh Rosen from UCLA.
WalterFootball.com currently projects Kizer to be the #4 pick in the first round to the Chicago Bears.