Federer Has Beaten Nadal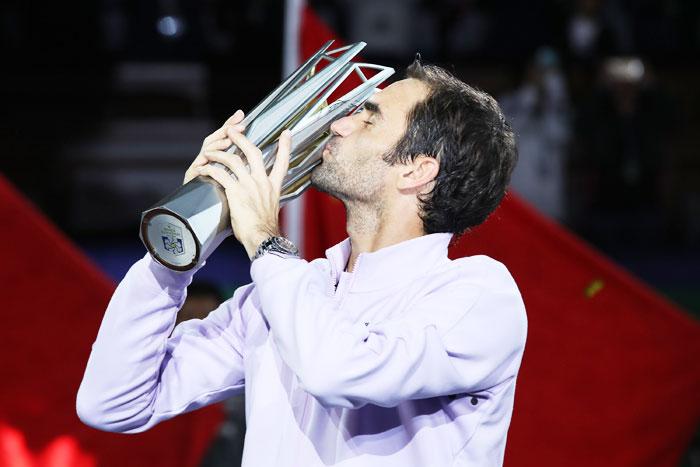 When it comes to playing Rafael Nadal, things haven't always been easy for Roger Federer.
However, the 19-time Grand Slam champion made it look easy on Sunday.
The Swiss maestro was at his ruthless best against his longtime rival, as he jumped on Nadal's serve early and never looked back, coasting to the Shanghai Rolex Masters title with a 6-4, 6-3 victory.
Federer added to his ATP World Tour Masters 1000 legacy, notching his 27th Master's title and his second in Shanghai, having lifted the trophy once before back in 2014. With the victory, Federer also notched his 94th tour-level title, placing him second all-time behind Jimmy Connors.
The resurgent 36-year-old, who still trails Nadal 23-15 in their overall head-to-head series, didn't face a break point and started and ended the match with a break of Rafa's serve.
Federer is playing some of the best tennis of his career — so good that he's even dominating his longtime nemesis. Federer beat Nadal for the fourth time this year and became the oldest men's champion in the history of the Shanghai Masters.
"I don't know what my expectations were going in," Federer said. "I thought that I might struggle early on because it was a late finish last night, but I had no nerves before the match, surprisingly. I started off very well in the first couple of games and just relaxed from then on."
With the win, Federer achieved his 700th match victory on hard courts and improved to 10-1 against the ATP Top 10 this year. His 2017 campaign continues to amaze fans and analysts across the tennis world, as Federer has now won six titles this season and three at Masters 1000 events. Having also prevailed at Indian Wells and Miami earlier this season, it marks the fifth time in his career in which he has captured at least three such championships.