Should the Raiders consider firing Jack Del Rio?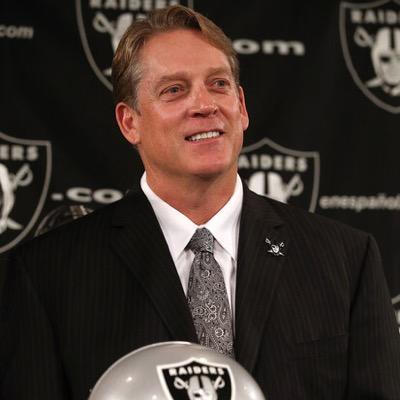 When the Oakland Raiders hired Jack Del Rio in 2015, fans across the country responded with a loud and resounding… "Meh." After all, Del Rio represented the typical retread hire considering his mediocre run in Jacksonville (68-71 record, only 2 playoff trips in 8 seasons.)
But then, a strange thing happened: Del Rio's Raiders started to look like one of the best young teams in the NFL. Del Rio's first season was a solid 7-9, followed up by a phenomenal leap forward at 12-4 last season.
GM Reggie McKenzie deserves a lion's share of the credit for that rebuild so far. You're simply not going to find a better 1-2 punch than their 2014 draft, when the team selected edge rusher Khalil Mack in Round 1, and then Derek Carr in Round 2. McKenzie also made smart investments in the offense line, including interior players like G Kelechi Osemele and C Rodney Hudson. The biggest question mark about Derek Carr in college was whether he could handle pressure or not; after all, his brother David Carr floundered under pressure in Houston and saw his confidence erode. The Raiders wisely stacked the lineup front and kept Derek Carr comfortable and confidence throughout his development.
In the process of this great rebuild, Del Rio looked like a whole new coach himself. Conservative in Jacksonville (which is what happens when your best QB is David Garrard), Del Rio reinvented himself as a 4th down gambler "Black"Jack Del Rio, a la "Riverboat" Ron Rivera in Carolina. In 2016, it felt like every risk he took worked out; he had the magic touch.
Now, in 2017, that shine is starting to wear off. The team's not terrible at 4-5 (-18 point differential), but the playoffs may be an uphill battle. Given that we're at the halfway point in the season, it may be fair to ask whether Del Rio should be the man to lead this team in the future.
The argument for Jack Del Rio
More than anything, these Oakland Raiders may be the victims of unrealistic expectations. 2016 was a magical season for them, but there were signs of regression all over the map. Their 12-4 record wasn't nearly as strong as their point differential (+31).
And while Derek Carr pulled a few rabbits out of his hat last season in close wins (leading to some MVP buzz), his advanced stats suggested he wasn't truly elite yet himself. This was not a true 12-4 team, and wouldn't be until Carr took another step forward.
Carr hasn't taken a giant leap forward under young OC Todd Downing, but there's nothing that you can point to that suggests his development is in trouble. He's still avoiding sacks (10 on the year), and his completion percentage has ticked up to 65.2% even despite Amari Cooper's drop issues.
So all in all, you still have to feel good about Derek Carr's development, and thus the Raiders' trajectory in general. Maybe this is just a case of taking one step back before taking two steps forward in 2018.
The argument against Del Rio
In a way, we shouldn't be focusing on Derek Carr's development here, because that's not Jack Del Rio's focus as a coach. He's a defensive guy first and foremost. And unfortunately for him, that defense is really struggling.
To be fair, these Raiders don't have strong personnel on that side of the ball. It's not ridiculous to call them a one-man band, with Khalil Mack and some backup dancers. To make matters worse, injuries have set into their back seven and doomed their fate.
But there's a difference between a bad defense and a really bad defense, and the 2017 Oakland Raiders are toeing that line. Their run defense has improved (going from 4.5 yards per carry allowed to 4.1), but their pass defense is getting absolutely shredded right now. Opposing QBs are completing 71.2% of their passes and accumulating a combined 110.5 QB rating. Both of those marks are, by far, the highest in the NFL.
Amazingly, the Raiders have not generated a single interception all year (literally, zero.) Obviously, that's the worst mark in the league as well, with every other team drawing at least 3. Interceptions can be flukey, so I wouldn't overreact to that stat alone if it didn't come paired with their struggle to generate pressure. The Raiders have 13 sacks on the season; that's not last, but it's second to last.
Okay, okay, we get it. The defense is bad. The question is: is this a problem of talent? Or coaching? Or more likely, both?
Jack Del Rio had a lot of success as Denver's defensive coordinator back when the Broncos ran a 4-3 defense. However, the Broncos' D took another big leap forward when they shifted over to a 3-4 under Wade Phillips, which brought out the best in Von Miller (a natural OLB edge rusher) and the rest of their team.
I wonder if these Raiders could make a similar shift in scheme as well. Khalil Mack can play either OLB or DE, although I may prefer him at OLB where he could move around the field a little more. I also think the transition would work for their second best young defender Mario Edwards, who's a big DE at 6'3″ 280; he has the strength to hold up in a three-man front.
Regardless of the scheme change or not (after all, most teams play in nickel anyway), the Raiders need to at least consider a coaching change to improve this defense. If it's a minor tweak, then DC Ken Norton can be axed without much of a second thought. If it's a more major overhaul needed, then perhaps it's Del Rio who needs to step outside after a hardy handshake and thanks for his work so far. But to get where this team needs to be, maybe the Raiders need a new coach to take that final step.