A look at the NBA's Southeast Division:

.
Atlanta Hawks
27 Wins 19 Losses (4th in East)
Projected 46 Wins 36 Losses (4th in East)
Largely because of defensive improvements, the Hawks have won 12 of 15 contests since going losing 15 of its first 31. During this surge, reporting emerged that team executives were taking trade calls on members of its veteran core. No team wants to lose players for nothing, meaning upcoming free agents Thabo Sefolosha and Paul Millsap could still be on the move. Even with Atlanta already having netted Cleveland's 2019 first rounder, Mike Dunleavy, and small trade exceptions by dealing Kyle Korver, it still has a number of veterans that it could swap. This after Millsap expressed unhappiness at being on the market in January along, with the team's uptick in performance, recent intel suggests that the Hawks were stung after losing Al Horford without any compensation. Hawks players have rallied around Millsap, but have only won half its eight games since Dunleavy replaced Korver. Nevertheless, finding fair value for Millsap, Sefolosha, and maybe even Dwight Howard is still the right call.
In Dennis Schroder, Atlanta has a 23-year-old point guard not ready to lead a team to playoff success, surrounded by quality players throughout their 30's, excepting Kent Bazemore. With the possibility of having significant cap space this summer, Atlanta could look to retool with a younger cast of players. It could also pick up some mentor-types, depending on the market and who's interested. Adding assets by trading any or all of its free agents could give the franchise an extra leg up in an attempt to regroup. Once again, we see an example of the league temperature impacting one team's future, as demand-driven price will determine Atlanta's willingness to make a deal. Millsap's expiring contract limits the value the Hawks can expect in return, especially since the receiving team will face the tough decision of how much money to give the 32 year-old forward. The Hawks should still fetch picks and/or prospects depending on which players depart before the February trade deadline. If Millsap is unwavering in his demand not to be traded, how the Hawks proceed could hurt its perception among other upper-echelon players. Coach and president Mike Budenholzer will have to weigh that risk against the value of a potential trade package.
What would the Hawks seek in a potential deal? Like many teams in the league, the Hawks could use a weakside ball handler to play off of Schroder. However, Budenholzer has conducted a successful offense consisting of a singular ball handler surrounded by shooting, passing, and cutting from the four other positions. The Hawks hope rookie DeAndre Bembry and Taurean Prince slide into two of those rotation slots within the next couple years. Since they recently locked Bazemore into a long-term deal and need to decide whether or not to pay Tim Hardaway Jr., Atlanta would not escape its swingman playing time issue if it acquired a wing prospect. There's a low likelihood that it could nab the type of versatile big it covets, though the club could take a stab at developing the talents of someone like Jusuf Nurkic. Player development has been somewhat of a calling card for the organization in Bud's time there. Should the team follow up its Korver trade with Millsap or Sefolosha encores, it will also have figure out a plan for what would be massive amounts of cap room without any young stars on the horizon among available free agents. In that way, dealing the All-Star leaves the Hawks almost aimless.
All three of its remaining vets have value derived from their quality and/or contract, so there are teams that would be interested. Sefolosha would fit well with the Clippers, Knicks, Wizards, or Kings, each of whom could provide a second round pick or two. Dwight could help a contending team, but isn't ideal for a young one, leaving Portland and Boston slightly less realistic than their rebound concerns would have you believe. The Hornets could also be a fit, and a team willing to part with draft picks to aid All-Star Kemba Walker. Atlanta held serious talks with both Denver and Toronto regarding Millsap over the summer. If the Raptors were to include Terrence Ross and/or Norman Powell, Atlanta would be hard pressed to find minutes for those two and their existing wings they, even if it included Dunleavy or Sefolosha in the deal. Denver, on the other hand, could offer Nurkic and a combination of first and second round picks. This might be a more appealing, transactionally efficient package for Atlanta's star. At the end of the day, something is better than nothing, even if that means trying to involved a third team or giving Bembry and Prince heavy D-League run.
Washington Wizards
25 Wins 20 Losses (5th in East)
Projected 45 Wins 37 Losses (5th in East)
Washington's start to the season dipped below the expectations of the most ardent pessimists, and while the starting unit has picked up its play significantly, the bench remains a problem. Outside of some hot shooting nights from Kelly Oubre and Trey Burke, the Wizards have relied on big production over long minutes from John Wall, Bradley Beal, Otto Porter, and Marcin Gortat. The Wizards lack any semblance of offensive punch off the bench, with Tomas Satoransky no longer receiving minutes and Trey Burke most successful as a weakside playmaker. GM Ernie Grunfeld, who tied up around $30 million over each of the next three years building this collection of reserves, is likely on the hook for its performance. New among reserves are Burke, Satoransky, Andrew Nicholson, and Jason Smith. Although his contract runs through next season, Grunfeld may feel some understandable organizational pressure to win with John Wall now squarely in his prime at 26. With all of its picks and intriguing young player Kelly Oubre, the Wizards look as though they could make a move if they desired. Possibly the biggest barrier to Washington adding a significant piece is the poor quality of the contracts for non-core players. The lure of Kelly Oubre and one or two first rounders may deafen when accompanied by Andrew Nicholson and/or Jason Smith's multi-year deals.
In terms of what the Wizards need, a rudder for the second unit offense tops the list. While the depth of Washington's swingmen leaves some things to be desired, Wall's size and defensive versatility papers over that hole a bit, as does Beal's increased on-ball fervor. Moreover, letting Oubre play out the season in the rotation could allow him to build on the momentum he's built over the last few weeks, and give Wizards' brass more of a sample to grade. Scott Brooks could make use of a defensively inclined center; however, it seems unreasonable to do so with Ian Mahinmi under contract for the next four years. On the flip side, snagging a backup guard to run with either Wall or Beal in staggered pairings will both help the team now and plug a hole going forward. That acquisition could decrease the overall load carried by Wall and Beal, especially valuable since the duo is tied to the team through 2019.
Washington could also seek help on the wing to unleash small-ball fury with Wall and Porter. Danilo Gallinari, Thabo Sefolosha, C.J. Miles, and Wilson Chandler each make some sense there. Lou Williams, Deron Williams, or Devin Harris could provide answers as a reserve guard. Lou especially appeals to Washington because of his reasonable two-year deal and the team's lack of cap flexibility. The team's long trade history with the Suns may make Brandon Knight an option, but that would likely require the Suns to take on both Andrew Nicholson and Jason Smith. Both of these guard options would cost the team a first-round pick, the type of asset Grunfeld has freely used in the past to acquire talent. But combine the cost of securing said talent and dumping bad contracts, and the Wizards would be justifiably reticent to pay the toll. Unfortunately for Washington, unloading its poor contracts may prove tough in what could be a competitive market. But if few buyers emerge for players like Deron Williams, Harris, or Sefolosha, expect Washington to sniff around with second round picks in hand.
Charlotte Hornets
23 Wins 23 Losses (6th in East)
Projected 42 Wins 40 Losses (6th in East)
One look at the Hornets' cap sheet tells you that there may not be many moving parts on this roster next season, as the franchise has committed at least $84 million to six players. It's possible that roster continuity amplifies the abilities of a good coach; the best coaches continue conferring benefits to players past the first couple years of the relationship. These Hornets look to test that theory. Steve Clifford has orchestrated this roster excellently, especially on the defensive end. The general level of league confidence in him has increased over his tenure and there's a blueprint to success for each one of the players in the above footnote. That's more than enough to justify going forward with the goal of maximizing this core.
GM Rich Cho and owner Michael Jordan will have little to no cap room next year should Spencer Hawes pick up his option and they keep their pick, so the Hornets may want to trade for a player who can help them now and definitively nudge them over the cap next year. That frees up their mid-level and bi-annual exceptions, which could return to relevance as means to acquire role players under the new CBA. A backup point guard or combo guard could really help Charlotte out, to handle the offense when Walker rests (or if he gets hurt). Recently-departed Jeremy Lin fits that description, as for the second straight year the Hornets have lost a key role player to a reasonable free agent deal. As far as other potential targets go, it's fun to imagine how this offense would look if it had an excellent rim runner, and how the defense would look with a top-flight rim protector.
Charlotte still has all of its picks, plus Jeremy Lamb and his nice contract. That essentially means that it could net one solid contributor but not two without really depleting its future. Market cost or supply could determine which type of player, if any, the Hornets acquire. Philadelphia's absurdly clogged frontcourt could soon expel Nerlens Noel. It's as fun to picture him next to Walker and Batum on offense as it is to envision him with Kidd-Gilchrist under Clifford's direction defensively. Trading for Noel, however, does likely mean paying him this summer. Disagreeing on that risk is one factor that's made trading him so difficult for Philly. Orlando has been itching to part with Nikola Vucevic, whose knack for moving the ball and uncanny rebounding ability make him an interesting fit that fixes some of the team's weaknesses, but not all of them. Orlando could really use Jeremy Lamb, and the Hornets could send back Spencer Hawes or Roy Hibbert to make the salaries work, plus a light pick package. Both Philly and Orlando are most desperate to rid itself of a quality big man, but Orlando's history tells you to deal with them.
Dwight Howard might make some sense. Steve Clifford was an assistant during Howard's time in Orlando, and depending on how that worked off-the-court, both could benefit from a reunion. But how excited would Atlanta get at the prospect of adding Kaminsky and Lamb? And for Charlotte, neither Nerlens nor Howard would keep the offense from sputtering without Walker, which has slowed the team down thus far. Moreover, the Hornets can protect the team's weaker defenders with strong perimeter defenders and a smart scheme. Since adding a big man isn't an urgent need, the franchise could also look for a guard. Deron or Lou Williams would steady Charlotte's offense sans Kemba Walker. Swapping Ramon Sessions and a highly protected first round pick. would put the Hornets over the cap this summer and attempt to solve its primary issues on offense. While there don't look to be any cup-to-cup big men the summer's mid-level market, the franchise can use it to add another asset to the table and another wrinkle on the court.
Orlando Magic
18 Wins 29 Losses (12th in East)
Projected 31 Wins 51 Losses (12th in East)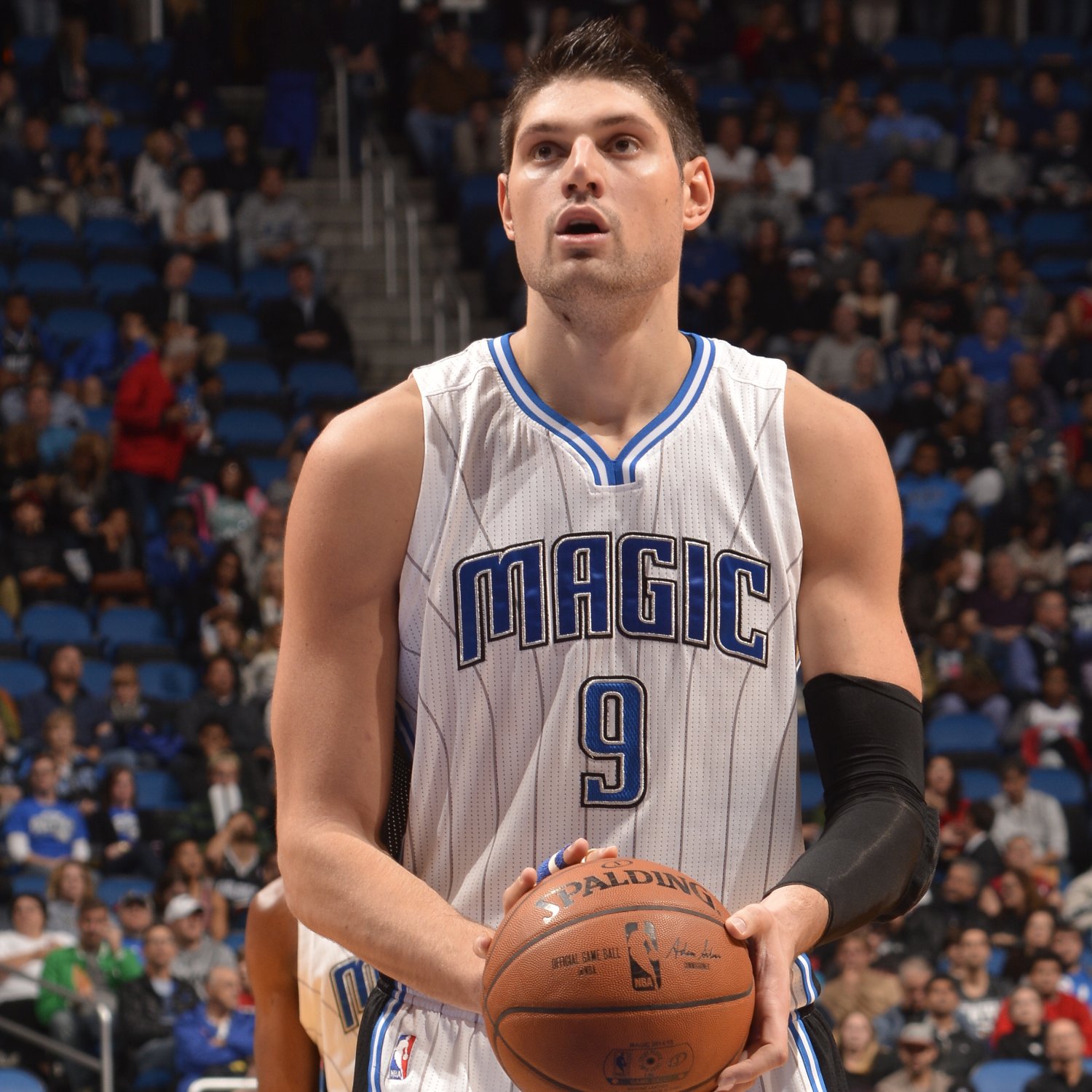 The past 12 months of Orlando transaction history has puzzled most observers and reeks of a win-now mandate from the top. After appearing to make a push for the playoffs, Orlando has fallen flat, somewhat predictably based on the moves that were made. The question of how close to GM Rob Hennigan is to losing his job looms over public expectations for Orlando's trade deadline strategy. Although, Hennigan could benefit from Orlando ownership refusing to eat a year of his contract while hiring someone to replace him. Luckily he likely has a better read on that situation than most anyone else. If he does expect to be ousted in the event of the Magic remaining disappointing, he'll be tempted to turn the season around via the trade marketplace. But those type of season-saving talent grabs rarely work, and could partially tie the hands of his replacement going forward, though the Magic could block such a trade. On the court, Orlando's three-man big man cadre of Bismack Biyombo, Nikola Vucevic, and Serge Ibaka has not gotten the job done. D.J. Augustin isn't a starting-caliber point guard right now, and young Elfrid Payton's deficiencies make him incompatible with this non-shooting roster.
This environment skews evaluations of anyone else's offensive performance. Naturally, Orlando has looked to move on from a big man, but that's tough from a value standpoint. Biyombo hasn't played particularly well next to Vucevic or Ibaka which has hurt his value in the first year of a 4-year, $70 million deal. Any team that acquires Ibaka at the deadline will either watch him leave or have to award him what many expect to be a max contract this summer. That, at the very least, cuts down a number of teams that would want Ibaka. While trading Ibaka would let Orlando use its cap room elsewhere this summer, bringing in Biyombo and Jeff Green last summer doesn't exactly inspire confidence that more cap room would really improve this roster. Vucevic probably has the most transactional value in terms of his contract, age, and performance. His skillset, however, only fits a small segment of teams would not be hurt by his lack of defensive utility outside of rebounding.
Miami is not one of those teams, though Goran Dragic would be a nice fit for this Orlando team going forward. Prospects also fit more nicely into Miami's plans right now, it would feasibly be interested in Elfrid Payton, a future first, and Jeff Green's expiring deal. San Antonio, a team which never makes significant trades in-season, would actually utilize his offensive skillset pretty well while minimizing his defensive liabilities. Pau Gasol's contract would match Vucevic's cap hit, the Spurs have picks, though they probably loathe to relinquish prospects. Charlotte could kick the tires on Vucevic or Ibaka It could send back Jeremy Lamb and Roy Hibbert's expiring contract. Philadelphia has shown some interest in Elfrid Payton, but that may have softened with the quality and depth of this year's point guard class. The Sixers will probably seek to provide a mentor type to its lottery point guard. It's hard to teach a rookie the ropes if you've not mastered them yourself. The wing pairing of Evan Fournier and Jeremy Lamb could complement really Aaron Gordon at the four. Chasing Lamb may be a more sensible option for Orlando, who could get a better look at the Gordon at power forward and the Congo Line with some spacing on the court. That way Hennigan can make a better decision on Dragic in the summer if he is indeed still around.
Miami Heat
15 Wins 30 Losses (14th in East)
Projected 31 Wins 51 Losses (14th in East)
The hangover from chasing four titles has caught up to Miami but is made better by the presence of Goran Dragic and Hassan Whiteside. Whiteside should perform well over the four of his new max deal, it might be a different story for his next deal. A top draft pick, a quality player in return for Dragic, and heaps of cap room could build the Heat back up relatively quickly. Miami is the one team that continually has attracted stars since the Shaq deal. That trend could also lead South Beach godfather Pat Reilly not to trade Dragic. He could look the other way and leverage its draft pick for a high-quality player, then nab someone like Paul Millsap in free agency. The team already has the makings of a good bench, and the talents of Millsap, Dragic, and Whiteside could mesh. This star grab would not propel the team to previous heights, but will probably continue to attract interest from other stars in the league while remaining competitive. The team could even use its pick on a top-five prospect, its cap room on a top-flight free agent, and end back up at the low end of the playoffs. All three options face Reilly at this undeniable inflection point in the direction of the franchise. The desires of ownership will play a part. Does Mickey Arison want to pay into the luxury tax without the security blanket of LeBron James?
Whatever Reilly and Heat GM Andy Elisburg pursue, it likely does not include swapping Dragic for Nikola Vucevic. Any realistic package Miami accepts from Orlando contains a first round pick and possibly more on the side. Other suitors could include Minnesota and New York. Pairing Porzingis with Dragic in the screen and roll would not be the worst outcome of a Melo trade. This trade would only happen without Miami giving up its draft pick. However, the Knicks could also send back Derrick Rose's expiring contract and one of its own first rounders for Dragic. That type of escalation of commitment could be a fallout from the Melo – Phil standoff. Minnesota is also a team that could look at Dragic as it needs shooting and wants replace Ricky Rubio while keeping steady place at the point.
Miami seems wrong for the Spaniard's skills, however, so the Heat would do well to find a third team for him. His inability to shoot and his otherworldly passing talents make his offensive fit possible but difficult. Rubio would be an interesting replacement for Terry Rozier's 20 minutes per game in Boston but cuts into the club's ability to spend in free agency for the last year in a while. Milwaukee could decide that both Jabari Parker and Malcolm Brogdon's surprising 3-point efficiency will stick and decide to follow through on its 2015 Rubio interest. That's only on the table if the price has gone down from Khris Middleton, though Thon Maker, Rashad Vaughn, and Matthew Dellavedova would be too low for both Rubio and Dragic. Moreover, it's probably safe to assume that neither Minnesota nor Milwaukee wants to part with picks as they rebuild. If these are the best possibilities with Dragic, he might not be dealt unless some team takes a serious risk, or flat out makes a mistake. While Miami may be receiving interest for Hassan Whiteside, there's a solid chance that they'll return to relevance within the term of his deal. That's worth waiting to line up trade options.
Previous Entries: Central Division