Here's who to watch in tonight's Alabama/Clemson NCAA Championship game:

.
Like many NFL fans, I like to watch college football partly to "scout" the draft and the next generation of NFL talent.
Obviously, Alabama and Clemson are rich in that department. They're both loaded with future pros. Both of these teams have a lot of young stars that aren't yet draft-eligible, but here are the eligible players that you can keep an eye on in tonight's game:
CLEMSON TIGERS
QB Deshaun Watson (#4)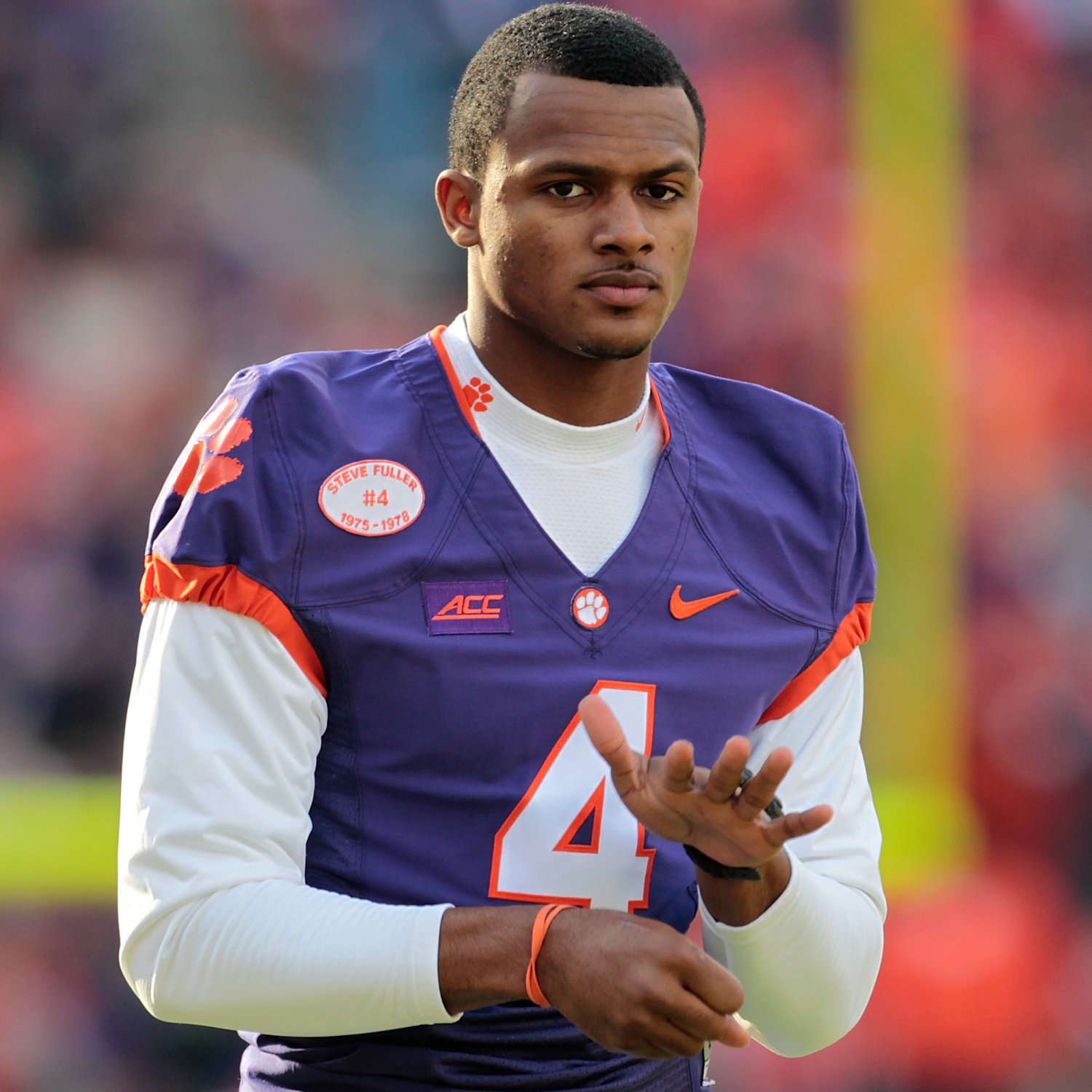 Most casual fans know about Clemson's QB, who has been a high-profile prospect since high school. For a long time, he was considered the favorite for the #1 pick in the draft, due to his combination of mid-range accuracy and athletic ability. For the most part, he's lived up to that billing. He's gone to back-to-back title games and back-to-back Heisman presentations. As a junior, he's been picked apart because of a flurry of interceptions (17 and counting), which has caused some question marks about him. Some experts now claim he's only a 2nd round pick, but I doubt that. If he can move the ball on a great Bama defense (again), he'll be firmly in the conversation for a top 5 pick.
RB Wayne Gallman (#9)
Like most of the Clemson offensive starters, Gallman's put up gaudy stats (2600 rushing yards and 30 total touchdowns over the last two years). He's a 6'0″ 200 back with a solid overall game. If he declares, he'll be entered a RB class that's absolutely loaded and may cause him to slip to around the 3rd / 4th round. There are some concerns that he runs "too high," so that's something to watch for tonight.
WR Mike Williams (#7)
Clemson has a great recent history of WRs (Sammy Watkins, DeAndre Hopkins, and Martavis Bryant were actually on the same team). Big 6'2″ Mike Williams was set to join that company until an injury cost him his junior year. He's come back like gangbusters this year, racking up 1267 yards and 10 TDs. He's not a quick-twitch explosive athlete — like Hopkins, he wins at the point of attack. Right now I have him as my #2 WR in the class, which should put him in the 15-25 draft range.
TE Jordan Leggett (#16)
The 6'5″ Leggett is a field-stretching tight end that's been highly productive for the Tigers, totaling 1166 yards and 15 touchdowns over the last two years. Coming from their spread attack, it's difficult to know how ready he'd be to block in the NFL. As a result, he's being talked about as a 2nd / 3rd round pick, in a strong TE class.
RG Tyrone Crowder (#55)
A two-year starter, Crowder's a burly run blocker. He'll have his hands full with the stacked Bama front, which should affect his stock one way or another. Right now he's also in that Round 3 range.
DT Carlos Watkins (#94)
Watkins has solid size at 6'3″ 305 pounds, and has shown good pass rush ability this year (with 10.5 sacks). ESPN only has him in the Round 3 range, but I suspect he's a late 1st / early 2nd round pick, particularly if he shows well again tonight.
LB Ben Boulware (#10)
Boulware will get plenty of attention tonight, as the fiery leader of the Clemson defense. He's a great college player, but athletically he's quite limited. I suspect he's only a late round pick (5th / 6th).
CB Cordrea Tankersley (#25)
Tankersley will be one of the more interesting prospects to watch tonight. At 6'3″, he has great size for a corner; in fact, you wonder if he's "too big" to play corner. Some people view him as a late 1st rounder, but others who think he needs to switch positions may slot him as low as Round 3.
ALABAMA CRIMSON TIDE
LT Cam Robinson (#74)
Big Cam Robinson has been holding up the blind side for Bama since his freshman year. Like Clemson's Deshaun Watson, he's been picked at over the years, with some scouts thinking he should move to RT exclusively and only be a top 20-25 pick. But at the end of the day, tackles with his size and experience don't come along often. I wouldn't be surprised if he locks up a top 10 spot.
TE O.J. Howard (#88)
With the injury to Michigan's Jake Butt, O.J. Howard finds himself in the catbird seat as the #1 TE in the class. Athletically, he flashes everything you'd want, with good size (6'6″ 250) and speed. The problem is his productivity. Aside from last year's title game, he becomes a forgotten man all too often — with only 1,091 yards and 4 touchdowns the last two years combined. Personally, I view him in the Round 2 range.
DT Jonathan Allen (#93)
There's no doubt about Jonathan Allen's draft status, which should be in the top 5. He's been a productive player for Bama for three years running, racking up national recognition (and some Heisman buzz) this year when he hurdled and rumbled for a TD. Allen's the type of DE/DT that's strong in the run and pass game, and can fit into any scheme. The only question with him is: does his position merit a top 5 pick? There will be other big DE's like Michigan's Taco Charlton and Arkansas' Deatrich Wise that will go 20 picks later.
DL Da'Shawn Hand (#9), DT Dalvin Tomlinson (#54)
Two more cogs in that great Alabama d-line, Hand and Tomlinson are only discussed as mid-round picks (around Round 4). I wonder if they're even better than that, and are simply buried in such a stacked defense that they've been overlooked.
LB Reuben Foster (#10)
Foster has a lot of similarities to Jonathan Allen. They're both senior leaders, with virtually no holes to their game. Foster has the size and strength to hold up at the point of attack, but also the range to be a 3-down LB. The question with him is: is he good or great? If he's good, like a slightly faster version of last year's Reggie Ragland, then he should be a top 25 pick. If he's great (he does remind you some of Patrick Willis) then he could land in the top 10, a rare spot for an inside linebacker.
OLB Tim Williams (#56)
Known as the "Predator" for his long hair and fearsome pass rush, Williams is considered the #1 pure OLB rusher in the class. With him, you only question whether he's too one-dimensional or not. If he can be a 3-down player, he'll go in the top 15. If he's more of a rotational pass rusher, then he'll slide down into the top 20-25 range.
OLB Ryan Anderson (#22)
The other OLB bookend may be getting overlooked. Anderson's not as quick-twitch of a pass rusher as Tim Williams, but he's been almost as solid. Over the last two years, he trails Williams 18.5 to 13.5 in terms of sacks, but has an identical 28.0 tackles for loss. If he can hold up as a 3-down player, he may present good value at his 2nd / 3rd round status.
CB Marlon Humphrey (#26)
Evaluating cornerbacks is always hard, and that's especially true when they play with such a great front seven in front of them. In terms of physical talent, the 6'1″ sophomore has Round 1 potential. Some scouts claim he's overrated as a pure cover corner, and should go in Round 2 instead.