Johns Hopkins dominated North Carolina

.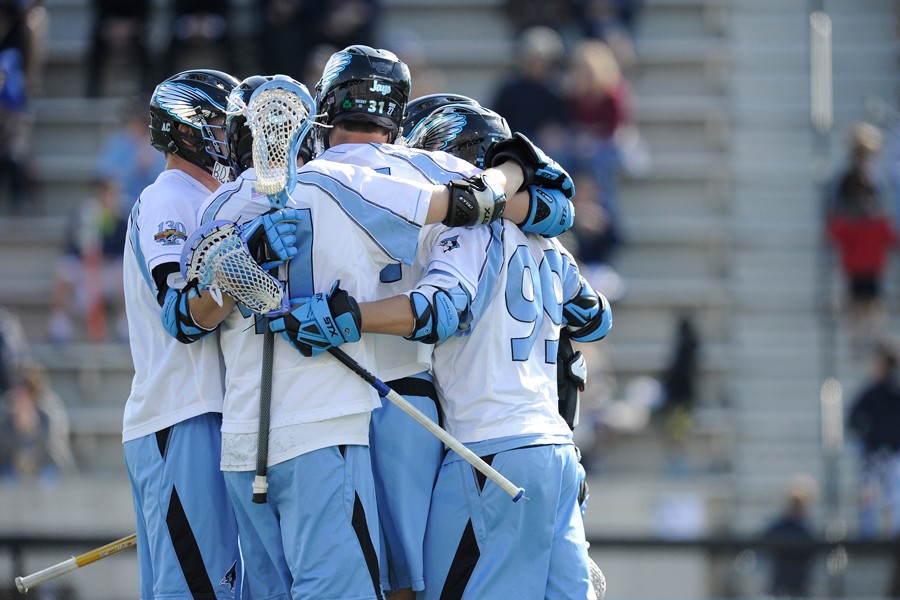 Johns Hopkins midfielder Joel Tinney has already made Sportscenter twice this season using hidden ball tricks and fake flips to confuse defenses into allowing highlight reel goals. No such trickery was needed against North Carolina, as Hopkins cruised to a 13-5 victory.
UNC has been getting off to hot starts all year, with 17 first quarter goals this year in just three games. Hopkins goalkeeper Gerald Logan would have something to say about that.
Hopkins took an early lead and never relinquished it, as they went on the road to beat the Tar Heels by a score of 13-5. While the talent on the Hopkins offense is undeniably some of the best in the nation, UNC didn't exactly make it hard for them to get going early. An early slashing penalty was converted into a goal by attackman Wilkins Dismuke for a quick 1-0. A sloppy possession from UNC followed, ended by a turnover, and while trying to ride and get the ball back, UNC committed an offsides penalty and handed JHU it's second man up opportunity before the 1st quarter was even half over. It took a doorstep save from UNC goalie Brian Balkam to keep the deficit at one and finally allow UNC to play some settled offense.
The settled offense, however, could not cope with the JHU settled defense, led by Nick Fields and Trevor Koelsh, who were spectacular in limiting UNC star attackmen Luke Goldstock and Chris Cloutier.
A second quick turnover from UNC led to aggressive transition from the Blue Jays, and defender Jack Rapine found Dismuke on the fastbreak to make the score 2-0. UNC's Stephen Kelly would win the following face off, but more of the same followed for UNC's settled offense. The Hopkins close defense continued to win individual matchups, and the heels were left looking for ways to create. A wing dodge led to a long range shot saved by Hopkins goalie Gerald Logan, but the rebound was put home by Brian Cannon to cut the lead to 2-1. The initial save was the first of Logan's sixteen on the day.
The Hopkins offense identified a weakness of the UNC defense early, and attacked it. Star attackman Shack Stanwick routinely played a two man game behind the net fellow attackman Forry Smith or whichever midfielder was being guarded by a short stick defender. Stanwick would either drive towards goal line, or use picks to create matchup problems, and then attack a weaker defender. Hopkins third goal saw Stanwick and Smith play a pick and roll game behind, creating enough room for Stanwick to get an angle above the goal line and score.
As the first quarter went on, the story of the game became clear. Logan would make two more saves on the next UNC possession, piling up four saves by the end of the first quarter. UNC struggled to put together offensive sequences that created quality opportunities, and when they could create, Logan was all over the shot. However, a Hopkins penalty with just four seconds left in the quarter meant UNC would start the 2nd with the ball and 56 seconds of man up offense, and a chance to spark some momentum.
UNC chose to try and hit Hopkins with a dose of their own medicine. UNC went for a hidden ball trick flip near the top of the box, and actually fooled a number of defenders, creating an open shot for Cloutier in tight, but once again, Logan was up to the challenge and made a spectacular kick save.
UNC would retain possession and actually play quality offensive lacrosse. A Goldstock wing dodge successfully drew a slide. Goldstock spun the ball to X attackman Austin Matthews, who moved it again to an open Timmy Kelly who had time and room from 12 yards. You can already guess what happens next. Shot, save, Logan is there again. UNC's next possession would feature Chris Cloutier generating a shot for himself from, and again, Logan made a save, his eighth of the contest and there will still 11 minutes left in the 2nd quarter.
Somehow through all this, Hopkins was unable to crack the UNC defense and extend the lead, which remained at 3-1. Hopkins continued to feature Stanwick attacking from behind, primarily looking to feed. With 2:19 in the second, Hopkins caught a break and deflected a clearing pass which was picked up by John Crawley for an easy goal. The 4-1 scoreline would hold until halftime.
UNC came out of halftime looking for a spark, and freshman Will Perry gave them one. With a quick righty dodge he created space and fired a rocket past Logan, energizing the UNC bench. The two teams would trade possessions as both defenses continued to shine, stifling chance after chance. A penalty on Fields would give UNC a man up opportunity and chance to close the gap to one. A skip pass found Kelly, whose shot hit a Hopkins defender and was picked up and pushed in transition. Defensive midfielder Tal Bruno would trail the play and get the ball in transition, and then fire a laser of his own past Balkam to make the score 5-2.
By this point, UNC had begun playing quality offense and creating solid chances, but Logan was simply on fire. UNC's standout midfielder Michael Tagliaferri got a great look from 12 yards but was stuffed by Logan.
The next possession started to find cracks in the UNC defense. The Tar Heels had become so focused on slowing down the two man offense from behind the net, their defenders had begun to ball watch. As Stanwick and Dismuke maneuvered behind the goal, Tinney a shooting angle, got the feed, and was able to rifle another goal in, making the score 6-2.
UNC's Chris Cloutier put his strength on display on the next possession, as he got the ball on the wing and plowed through stick checks on his way to a dunk past Logan, finally ending a long scoring drought for the heels. The glory would be short lived however, as a face off battle that found it's way into the Hopkins defensive end was ultimately won by Hopkins face off man Craig Madarasz, who would move it to Tinney at midfield, and Tinney would push to find Smith on the doorstep, and just like that it was 7-3 Blue Jays.
Kelly would win the next faceoff cleanly and attack the defense quickly, looking to create an unsettled chance. Kelly found Cannon ten yards out, but once again, Logan slammed the door. As the 3rd quarter came to a close, Hopkins middie John Crawley swept hard across the top right handed and found the back of the net, making the score 8-3.
Once again, at the start of a quarter, UNC needed a spark, and found one. Stephen Kelly won the opening faceoff to himself, pushed forward, and ripped a shot over Logan's shoulder to make it 8-4, giving the heels a bit of life. That was just about the last bit of life they had however, as Logan made save after save going forward on his way to a remarkable 16 total.
Hopkins would score from all over the rest of the way. Another goal on extra man made them 3 for 5 on the day, as they excelled at punishing UNC for mistakes and penalties. At 10-4, UNC would win a faceoff, but be called for a push. Hopkins picked up the ball, Crawley carried behind the net for an invert game with Stanwick. Off a pick, Crawley was able to turn the corner and score, and this goal felt like the story of the game. A Carolina mistake led to Hopkins getting into an offensive set that was never really answered, and a goal was scored.
For Hopkins, they got to flex their defensive muscles today. Nick Fields is as good as advertised, and he caused turnovers and wreaked havoc all over the defensive end of the field in this game while he was charged with guarding Goldstock. Koelsh was equally impressive, as his physically play created loose balls and allowed him to push in transition. Logan was the story of the day however, as he stood on his head for some spectacular saves. UNC did not make it easy for him, but Logan was routinely saving shots on his offside hip or at his feet. Offensively, Hopkins clearly loves the Tinney/Stanwick duo. On some sets, Stanwick will start on the crease as Tinney dodges, the goal being for Tinney to draw Stanwick's man as the help defender. Once this happens, Stanwick steps off the crease and takes his now much weaker matchup behind the cage and attacks, where he is equally dangerous as a feeder and a scorer. The roles can reverse as well as Hopkins looks to create matchups for Tinney up top.
For North Carolina, things really did not go that poorly. They created chances, and their big guns had opportunities, they simply could not convert against a stout defense and a hot goalie. Still, a box score featuring Goldstock, Tim Kelly, Tagliferri, and others with zero goals between them, and the five goals that were scored all being unassisted, will never be a recipe for success. That isn't how this team won the title last year, and it won't be how they can get back this year. The individual talents on both ends for the Heels are extraordinary, but none were able to put it together for a team effort against Hopkins.
Hopkins will travel to play Princeton on March 3rd. Carolina gets no respite at all, as they now travel to face #1 Denver in Colorado on Saturday.