Overlooked Winners: Week 10
Every week, we try to highlight some overlooked winners who benefited — either directly or indirectly — from the events this past weekend. I'm listing my own, but please write in with yours as well. All season, you guys have mentioned some under-the-radar studs who helped bring attention to their nice weeks. Let's all do the same again to help people get a better feel for the entire league.
LT Terron Armstead, New Orleans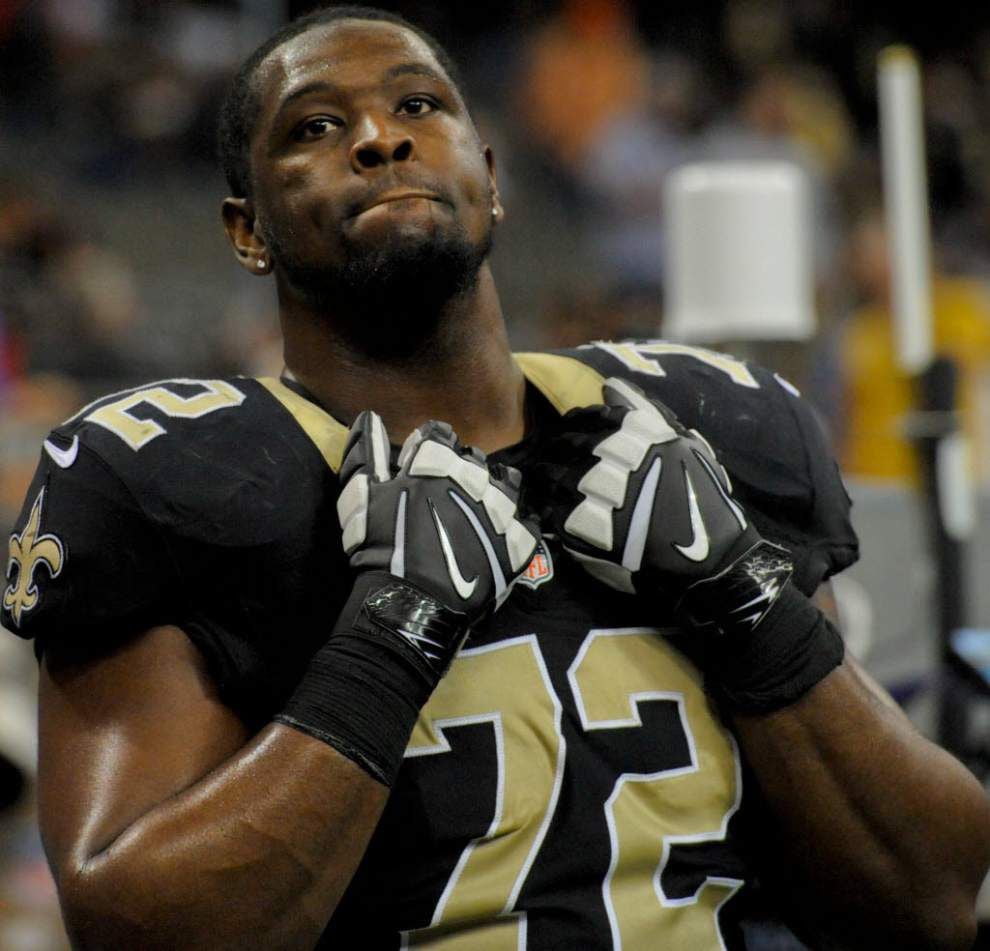 This post is supposed to be about "overlooked" stars, so we'll ignore Atlanta DE Adrian Clayborn, who got well-deserved headlines for his 6 sacks this weekend. As a result, injured Dallas OT Tyron Smith got residual praise as well, as we all got a stark reminder of how important he is to that Cowboys' front.
Another elite left tackle that hasn't gotten the same press this weekend is New Orleans', Terron Armstead. The Saints drafted him in R3 in 2013 as a project out of Arkansas Pine-Bluff, mostly on the basis of his extraordinary athleticism (including a 4.65 40 yard dash. No joke.)
That gamble turned out to be like a winning lottery ticket because Armstead's locked down Drew Brees' blind side. He had been injured earlier this season, and the Saints' offensive line played well without him. However, since Armstead's returned after the bye week, they've been downright dominant. They've gone from 94 rushing yards per game (on 4.04 yards per carry) to 181 rushing yards per game (on 4.94 yards per carry). This weekend was their statement game, totaling 298 yards and 6 touchdowns on the ground and leaving the Bills' front a pile of rubble beneath their feet.
Mike McCarthy, head coach, Green Bay
A few years ago, Mike McCarthy earned a lot of praise for his "system." After all, Aaron Rodgers' backup Matt Flynn could step in and light it up for 7 touchdowns (edit: 6!) Sure, Rodgers was great, but McCarthy was a major factor in their success as well.
Over the last few seasons, that perception's changed. Aaron Rodgers = amazing, and dumbo Mike McCarthy's just along for the ride. That certainly appeared to be the case when Brett Hundley first took over, struggling to stay in the pocket and stay in games. After multiple years in the "system," Hundley should have been a lot better than that.
This weekend may have been a watershed moment for Hundley, as he played well (18/25, 212 yards, 1 TD, 0 int) and led the Packers to a road win at Chicago. The win snapped a three-game losing streak and kept Green Bay alive. Going forward, the Pack have four games before Rodgers can return: vs. Baltimore, at Pittsburgh, vs. Tampa, at Cleveland. Can McCarthy squeeze out a 2-2 stretch? It's possible. And if he does, Aaron Rodgers may be able to return and help the team on another playoff run.
DE Stephon Tuitt, Pittsburgh
Once considered a potential top 10 pick at Notre Dame, big DE/DT Stephon Tuitt slipped to the # 46 pick in the draft back in 2014. The concern was whether or not the 6'6" 300 pounder had the pass-rushing juice to excel. However, the Steelers realized that he'd be perfect for their scheme, with some ability to rush but also the strength to hold up against the run.
Sturdy 3-4 linemen like Tuitt don't get a lot of attention around NFL circles because the stats don't jump off the page, but Tuitt's been part of a good young front for the Steelers along with Cam Heyward. This weekend may have been Tuitt's best as a pro, amassing 3 tackles for loss, 1 sack, and 4 QB hits in a comeback win over Indianapolis. Ben Roethlisberger may have lost a few MPH on his fastball these days, so if Pittsburgh's going to make a legitimate Super Bowl run, Tuitt and this defense will need to play a key role.
WR Adam Thielen, Minnesota
Unless you happen to own Adam Thielen in fantasy, you probably haven't noticed how consistent and solid he's been all season long.
The scouting report on Thielen says a lot. He has "surprising" speed. "Sneaky" quickness. "Deceptive" athleticism. Okay, we get it. The dude's white. As a result, Thielen's been overlooked and underestimated his entire career. He's not someone that you'd lump in with little white slot receivers either. Like Jordy Nelson, he has legitimate speed and the ability to beat you down the field. Through his entire pro career, Thielen's been highly productive, with a yards/target nearing 10.0 last season.
Thielen's kept up that momentum this season. His 8 catches and 166 yards this weekend against Washington wasn't a surprise; it's become routine. Along with Stefon Diggs, these Vikings may have one of the best 1-2 punches at WR in the entire NFL.
Mike Smith, DC, Tampa Bay
Unlike some others on this list, Tampa Bay DC Mike Smith is NOT having an excellent year. In fact, he's been a contributing factor to the Bucs' disappointing season so far. Smith's defense has struggled mightily to generate pressure, with only 8 total sacks prior to this week. The personnel up front isn't stellar, but this is a problem that's carried over from Smith's days in Atlanta. When he doesn't have studs up front, his vanilla 4-3 scheme doesn't do much to manufacture pressure.
I don't really buy the rumors that Dirk Koetter will be on the chopping block this year, but Smith could have been an easy scapegoat if the front office demanded changes. However, Smith did a lot of stave off the ax this weekend. His Bucs turned up the heat on Josh McCown, collecting 6 sacks in a 15-10 win over the Jets. If Smith can keep that momentum up, his job should be secure come 2018.