Venus dares to dream, Serena chases history

.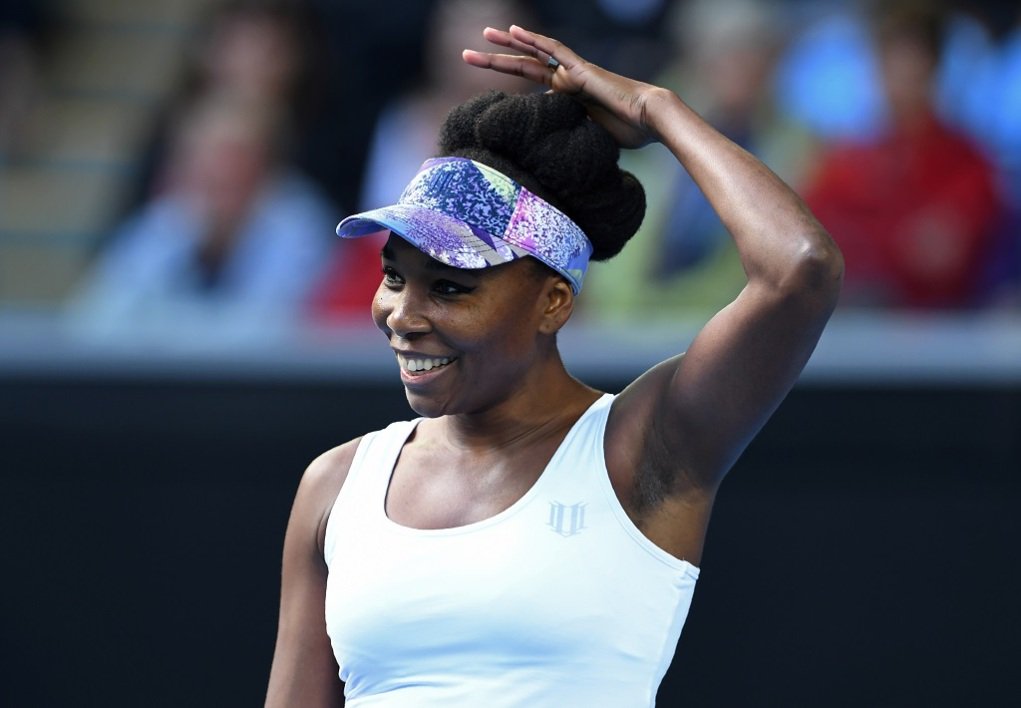 At 36, Venus Williams is the oldest woman in the draw and is through to her ninth Australian Open quarterfinal. She faces Anastasia Pavlyuchenkova on Tuesday. If she can win and get to a semifinal, it will be her first down under since 2003, also the year the Williams Sisters played each other in the final, with Serena winning in 3 sets.
"This is what you do all the hard work in the off-season for," she said after the match. "It's wonderful to be an opportunity to advance even further. I love it. It's such a blessing,"
Asked what motivates her to keep playing, she replied,
"I think I was born to play this game, I really do. I've been blessed enough to do something I love and I think this was my calling because I grew so big and so tall and I can cover the court and hit it hard. I was meant to do this."
She has never won an Australian Open title.
Angelique Kerber, world no. 1 and defending champion, is out of the Australian Open after being defeated by the big serving young American Coco Vandeweghe. This makes Serena Williams, world number 2, the highest seeded woman in the draw. Williams overcame a tricky opponent in Barbara Strycova to reach her 11th Australian Open quarterfinal and is potentially three wins away from a record 23rd grand slam title, which would put her above Steffi Graf's record of 22 in the Open Era.
Serena leads the H2H against her sister 16-11 overall, also leading 9-5 in grand slam matches and 6-2 in grand slam finals.
Any man's title as Murray and Djokovic are out
For the first time since 2002, the top two seeds are out before the quarterfinals at the Australian Open. Murray and Djokovic have played four Australian Open finals in the last six years, making their exit from their most consistent tournament even more shocking.
This has made the draw less tricky to navigate for many big names seeded lower. Rafael Nadal (seed 9) and Roger Federer ( seed 17) have not met at grand slam final since the 2011 French Open, but they are on opposite sides of the draw and have survived tough matches in the early rounds.
Federer is now the favorite with the bookies after winning over Kei Nishikori in five sets yesterday. He faces Mischa Zverev in the quarterfinals, a far better matchup for him than Andy Murray. In their last match, Zverev was beaten 6-0 6-0 by Federer. He then potentially faces an in-form Stan Wawrinka in an all-Swiss semifinal. Wawrinka won the last Grand Slam by defeating Novak Djokovic at the US Open in 2016 and will be considered the favorite to reach the final. Roger Federer's 17th and last slam title was in 2012 in Wimbledon. He is chasing a record 18th grand slam.
Nadal has not made a slam quarterfinal since the 2015 French Open and last won a slam in 2014, his fourteenth slam title. He faces sixth seed Gael Monfils tonight in the round of 16, having fought through the incredibly talented, 19-year-old Alexander Zverev in five sets in round three. If he manages to win that match, he will likely be facing the remaining top seed, Milos Raonic, in the quarterfinals. Due to the Australian Open having faster courts and flightier balls than previous years, the big-serving Raonic will be favored to win.
But anything seems possible at the most dramatic slam seen in years.
Nadal leads the H2H against Federer 23-11 overall, also leading 9-2 in grand slams and 6-2 in grand slam finals. Nadal has won all three of their previous meetings at the Australian Open.