Previewing UFC Fight Night 120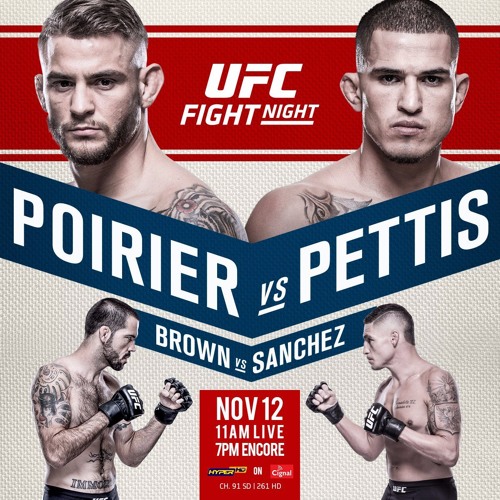 The UFC wastes no time getting back into action this Saturday as a former 155lb champion takes on a perennial Lightweight contender. After what was an incredible UFC 217 card Norfolk. Virginia will host it's first ever UFC event. The card is free on FS1 and has 13 fights on it. The biggest showdown is the main event at 155lbs as Anthony "Showtime" Pettis (20-6) squares off with longtime UFC contender Dustin "The Diamond" Poirier (21-5 1NC #8 Ranked Lightweight). This card has a big act to follow after last Saturday's car, but it has a ton of solid matchups on it. We have former champions on the card, a Dana White Tuesday Night Contender's Series veteran, and multiple Ultimate Fighter Participants on what should be an enjoyable Saturday night. Alright, there are a ton of fights so let's take a look at the card.
The UFC Fight Pass Prelims starts off at 185lbs and it features Darren "The Dentist" Stewart (7-1 1NC) taking on the debuting Karl "Baby K" Roberson (5-0). Darren Stewart is coming off a disappointing decision loss his last time out in a rerun of a fight that ended in a no contest. Stewart is a talented striker who rose through the ranks with 5 knockouts on his resume. He will be looking to lock in his first UFC victory against another talented striker. Stewart leaves a little to be desired on the ground, which was evident in his last go in the UFC. Expect him to try and keep it standing and grab a quick knockout victory. Karl Roberson debuted to UFC fans on The Dana White Tuesday Night Contender Series. Back in July. He made a serious impression there with a 15-second knockout via an elbow in the first round. Roberson tried his hand at kickboxing before heading to MMA, but his brief experience under the UFC banner was super impressive. He will be taking a big step up in competition, and have to deal with the first time UFC jitters in this one. This should be an interesting striking battle between these two guys. Prediction: Darren Stewart via Decision.
The 205lb division goes to the Octagon next as Jake "The Prototype" Collier (10-4) takes on Marcel "Maozinha" Fortuna (9-2). Jake Collier has flip-flopped wins and losses since joining the UFC in 2014 racking up a 2-3 record. Collier, however, has looked solid in most of his matchup. His 5 career knockouts and 2 submissions show an ability to finish no matter where the fight goes. He will be looking to get in and out vs. the hard-hitting Brazilian in this one. Marcel Fortuna burst into the UFC in February of this year with a thrilling 1st round knockout just 3 plus minutes into his debut. He followed it up with a tough decision loss, but the 32-year-old Brazilian showed an iron chin, and never stopped during that fight. He will be looking to use his power to potentially take the fight to the mat and walk away the victor. In the 205lb division that is very thin a win here could start either of these guys rolling towards the top 15. Prediction: Marcel Fortuna via Submission.
We close out the Fight Pass Prelims with a 170lb showdown between Court  "The Crusher" McGee (19-6) and Sean "Tarzan" Strickland (18-2). The Ultimate Fighter Season 11 Winner Court McGee has been rotating wins and losses in his last 6 fights and is looking to get back on the winning side. McGee had made a serious mark early in his UFC run with 3 straight, but since then he hasn't been able to string together wins consistently. McGee has been a guy who likes to use his wrestling to get his Jiu-Jitsu off. He showed that back during the show and has carried that throughout his UFC career. He has seen the judge's scorecard more often than not during his career, and he has the ability to just grind out his opponents. Sean Strickland may have dropped his last fight in the UFC, but he has run off a 5-2 record since coming on in 2014. Strickland has proved to be a pretty durable fighter, and his stamina has taken him to the judges 8 times in his career. Strickland however also has the ability to knockout anyone out there with 8 career knockouts. Strickland has his hands full with the grappling of McGee, but he will need to combat that and look to get his strikes off. Honestly, with these two guys, there's a great chance 3 people at ringside make the ultimate call on the winner. Prediction: Sean Strickland via Decision.
We move to DS1 for the prelims and get started in the Women's Strawweight Division as Angela "Overkill" Hill (7-3) takes on Nina Ansaroff (7-5). Angela Hill is always in one of the most entertaining fights of the night since she returned to the UFC in early 2017. Her throw down with Jessica "Bate Estaca" Andrade (17-6 #2 Ranked Women's Strawweight) is up there as a fight of the year contender. She may have dropped that bout, but bounced back with an impressive decision victory in July. The former Invicta FC Women's Strawweight Champion is looking to start to put together a streak of wins and get herself in the Top 15. Expect fireworks from her as she will look to get her 4th career knockout. Nina Ansaroff finally got in the win column in the UFC back in January of this year. She will now face a big-time opponent in Angela Hill and will look to put a big name on her list of victories. Ansaroff has been able to get finishes both on the feet and on the ground prior to joining the UFC. Her training with her fiancé Amanda "The Lioness" Nunes (15-4 Women's Bantamweight Champion) has most certainly made a difference in her performances. She may have the advantage on the mat with her grappling, but the question will become can she hang with Hill's advanced striking. Prediction: Angela Hill via Decision.
"Super" Sage Northcutt (8-2) has fallen on some hard times since finding early success in the UFC returns to take on Michael "Capo" Quinones (8-2). Sage Northcutt ripped off 2 very impressive victories when he debuted in the UFC in 2015. Since then, however, he has dropped 2 of 3 inside the Octagon. Sage is only 21 years old and has a very long career ahead of him, but his ground game leaves a lot to be desired. Honestly, we saw a bit of an attitude change in his last matchup with Mickey Gall (4-1) despite dropping the fight. He went from the clean-cut UFC poster boy outside the cage to seemingly frazzled and trash talking inside the Octagon. His striking is karate based, and that will help him as he enters a fight where he could really use a victory. The UFC is certainly behind him, with the amount of commercials and sponsorship things they have him involved in, but he has to perform in the cage for fans to really take him seriously. Michael Quinones dropped his UFC debut back in June via a 2nd round knockout. Quinones is a solid striker who has racked up 5 knockouts in his time prior to the UFC. Quinones will make a big statement if he can shut down Sage Northcutt. If he can take the fight to the ground and take advantage of a guy with limited ground skills this fight could get very interesting. Prediction: Sage Northcutt via Decision.
The return of The Ultimate Fighter Season 23 Winner Tatiana Suarez (5-0) will look to be spoiled by Viviane "Sucuri" Pereira (13-0) at 115lbs. Tatiana Suarez breezed through her 3 opponents during the season on The Ultimate Fighter on her way to claiming the top prize in 2016. She had to pull out of a fight in December of 2016 due to injury, but has fully healed and will be looking to begin her ascent towards the Women's Strawweight rankings. Viviane Pereira came into the UFC as an unbeaten prospect and has kept that up with 2 straight decision victories. Her grappling has been her strong suit in her entire MMA career. You can't sleep on her power either though with 4 career knockouts. She will need to use her grappling ability to keep Suarez off of her as the fight drags on. The question will become if Pereira can use her experience to overtake a highly regarded up and comer in the Women's Strawweight Division. Prediction: Viviane Pereira via Decision.
Closing out the FS1 Prelims John "The Magician" Dodson (20-8 #8 Ranked  Bantamweight) is set to take on Marlon  "Magic" Moraes (18-5-1). John Dodson rebounded from a tough decision loss to John "Hands of Stone" Lineker (30-8 #5 Ranked Bantamweight) with a decision victory over former WEC Champion and UFC Title Challenger Eddie Wineland (23-12-1 #12 Ranked Bantamweight). Dodson is a power puncher, who moved up to 135lbs looking for fights. His fight with Lineker was a great job in what appeared to be an outpointing of a top contender. Dodson has the power, but we have yet to see it at 135lbs. He will look to challenge Moraes on the feet, and counter strike his way to another victory. Marlon Moraes came into the UFC following a successful run as the Bantamweight Champion of the World Series of Fighting. Moraes dropped a tough split decision to a long time high ranked Bantamweight Raphael Assuncao (25-5 #4 Ranked Bantamweight). Moraes has been able to mix up his finishes with 8 knockouts and 5 submissions on his record. Moraes will look to use his significant reach advantage in this one to keep Dodson on the outside and make sure he neutralizes his striking. He must look out for Dodson's counter shots. A win here for Moraes would put him right in the mix of the top 10. Prediction: Marlon Moraes via Decision.
The FS1 main card kicks off with an old school UFC fans dream matchup between Joe Lauzon (27-14) taking on Clay "The Carpenter" Guida (33-14). Joe Lauzon has been an absolute staple since being on The Ultimate Fighter Season 5 way back in 2007. Despite dropping 3 of his last 5 fights, he continues to put on entertaining fights left and right. Lauzon sits tied atop the list for most performance bonuses with 15 in his UFC career.  His grappling and wrestling have always been his strong suit. His Jiu-Jitsu game is the thing that has kept him in every single fight in his UFC career. Lauzon will have his hands full with the wrestling of Guida, but expect another great showing from a true veteran of the game. Clay Guida dominated a unanimous decision his last time out using the pressure and wrestling he was always known for. Guida is another mainstay since joining the UFC in 2006. No matter the weight class Guida has always been a guy who was game to fight left and right. If he can pressure Lauzon and stay out of the submission game on the mat we could be in for another big victory on his resume. This one has one of the best chances to be the Fight of the Night. Prediction: Joe Lauzon via Decision.
The Bantamweight Division is up next as Raphael Assuncao (25-5 #4 Ranked Bantamweight)is set to take on Mathew Lopez (10-1 #13 Ranked Bantamweight). Raphael Assuncao has done nothing but be impressive since 2011 where he has gone 9-1 including a split of 1-1 versus current champion TJ Dillashaw (16-3 Bantamweight Champion). Assuncao is a decent striker whose grappling game has gotten him very far with his 10 career submission. Assuncao does go to the judges a lot, but the stamina is never in question. Assuncao will have his hands full with a young up and comer, but he has turned them away before and will look to do it again. Since dropping his UFC debut Matthew Lopez has rattled off 2 straight victories. At UFC 212 he took out Johnny Eduardo (28-11 #15 Ranked Bantamweight) with a first-round knockout. Lopez has a chance to shoot up the rankings with a big win over a very established longtime contender. Lopez has 4 knockouts, and 4 submission finishes on his record, but if he can finish this fight he enters the Top 10 of a division filled with a ton of competitors. The division is stacked, and may arguably the toughest division in the UFC currently. Prediction: Matthew Lopez via TKO.
UFC legend Nate "The Great" Marquardt (38-18-2) returns to the cage to take on young prospect Cezar "Mutante" Ferreira (12-6). Nat Marquardt has been in the UFC since 2005 after a run that saw him be the King of Pancrase multiple times. He has faced the who's who at 185lbs including a shot at the title at UFC 73. He then took a break from the UFC and ended up in Strikeforce where he became the Middleweight Champion. Nate has dropped his last 2 and is 3-7 in his most recent stint with the UFC. He is still a great wrestler and will have his hands full with the Jiu-Jitsu practitioner Ferreira. If there is ever a guy who needs a win it is Nat Marquardt. Cezar Ferreira was the original winner of The Ultimate Fighter: Brazil back in 2012. Since then he has tried to stay as active as possible but multiple fight cancellations gave him a long layoff early in his UFC career. He rattled off 3 straight victories recently but then dropped his most recent outing. Striking has been his biggest issues, suffering 3 of his 4 UFC losses by 1st round knockouts. He will be looking to get this fight to the ground and try his hand at grappling Nate Marquardt. This is going to be a chance for Ferreira to get a win over a name at the tail end of his career. Prediction: Cezar Ferreira via Decision.
We get our first look at the Heavyweight Division Saturday with former UFC Heavyweight Champion and longtime MMA veteran Andrei "The Pitbull" Arlovski (25-15 1NC #13 Ranked Heavyweight) taking on Junior "Baby" Albini (14-2 #12 Ranked Heavyweight). Andrei Arlovski has been in the MMA game for almost 2 decades. He reached the pinnacle of the sport in 2004 when he was the UFC Heavyweight Champion. He left the UFC in 2208 and found some decent success outside of the UFC until he hit a serious skid losing 4 straight fights. Arlovski rebounded however and put together some wins to get himself back into the UFC. He rattled off 4 straight victories upon returning and was one win away from a title shot. Then it all unraveled as he went on to lose 5 straight fights. This has to be his absolute last chance at staying in the UFC. He has put on thrilling performances before, and the first round you have to watch out for with him.  He has put together some of the most classic first rounds in UFC history. He needs to dig deep and put a stop to an up and comer in this one. Junior Albini came into the UFC in July and scored a 1st round knockout in just over 2 minutes. Albini is a finishing machine with 6 knockouts and 6 submissions. He looked very composed making his debut so the jitters should not be there despite facing a legend of the sport. Albini needs to connect early, and he will have a chance for a quick evening. Prediction: Junior Albini via TKO.
The Co-Main event of the evening is up next and it's another super veteran matchup as Matt "The Immortal" Brown (22-16) and Diego "Lionheart" Sanchez (29-10). Matt Brown announced prior to this that it would be his final fight prior to retirement. The Ultimate Fighter Season 7 alum has been a mainstay of the UFC since 2008. He is one of those guys that has been willing to go with anyone at anytime. When he was able to get to the top tier talent he was never able to fully get it done. However, he is such a gamer and could never be counted out of any fight. He has dropped 5 of his last 6, but he will have a chance to go out in the win column against another legend. Season 1 of The Ultimate Fighter winner Diego Sanchez is another veteran who has flip-flopped wins and losses over his last 7 fights. Sanchez suffered a tough knockout loss in the first round of his last fight in April, but he put any talk of retirement to bed. Sanchez has been a relentless competitor whose pressure on his opponents has made the difference. The wrestling from Sanchez got him all the way to a title shot in the past, but he came up short. Expect this one to be a really good show between two guys who have been doing it forever. Prediction: Diego Sanchez via Decision.
The Main Event of the evening is up next as former 155lb champion Anthony "Showtime" Pettis (20-6) looks to continue his winning ways since returning to Lightweight against Dustin "The Diamond" Poirier (21-5 1NC #8 Ranked Lightweight). Anthony Pettis arrived in the UFC after closing out the WEC as their Lightweight Champion. Pettis worked his way all the way up to eventually becoming the champion at 155lbs.After 1 title defense, his career hit a skid. He dropped 3 straight before dropping down to 145lbs. He won his debut at 145lbs but then was set up for an Interim title fight. A weight cut issue caused him to not be eligible for the title, and then he was stopped for the first time in the fight. Pettis returned to the division he was once at the top of and took home a big decision victory. Now The unorthodox striker will look to keep building his way back to the title. Pettis has an excellent mix of striking and grappling, and against a guy like Poirier taking the fight to the mat may be his best plan of action. Dustin Poirier has been in the UFC since 2011, and at just 28 years old has made consistent runs towards the top of the division. He has shown some serious power punching in his time in the UFC, and if he can pressure Pettis with his striking he could make this an impressive victory. Poirier's ground game can't be slept on however as he has 6 career submissions. There is a blueprint for Pettis dealing with pressure, and if Poirier can follow that script he may get one of the biggest wins of his career.  Prediction: Dustin Poirier via TKO.
The UFC has a pretty fun card on Saturday night from Norfolk, Virginia. The main event is a solid headliner between a former titleholder and a guy who is still looking to get his chance at a title. The card has a ton of UFC veterans and some really fun fights between them. If this card is even half as good as last Saturday's UFC 217 we can expect one heck of an evening. The UFC can build of UFC 217 with a big night here and continue to pull in the casual fans.