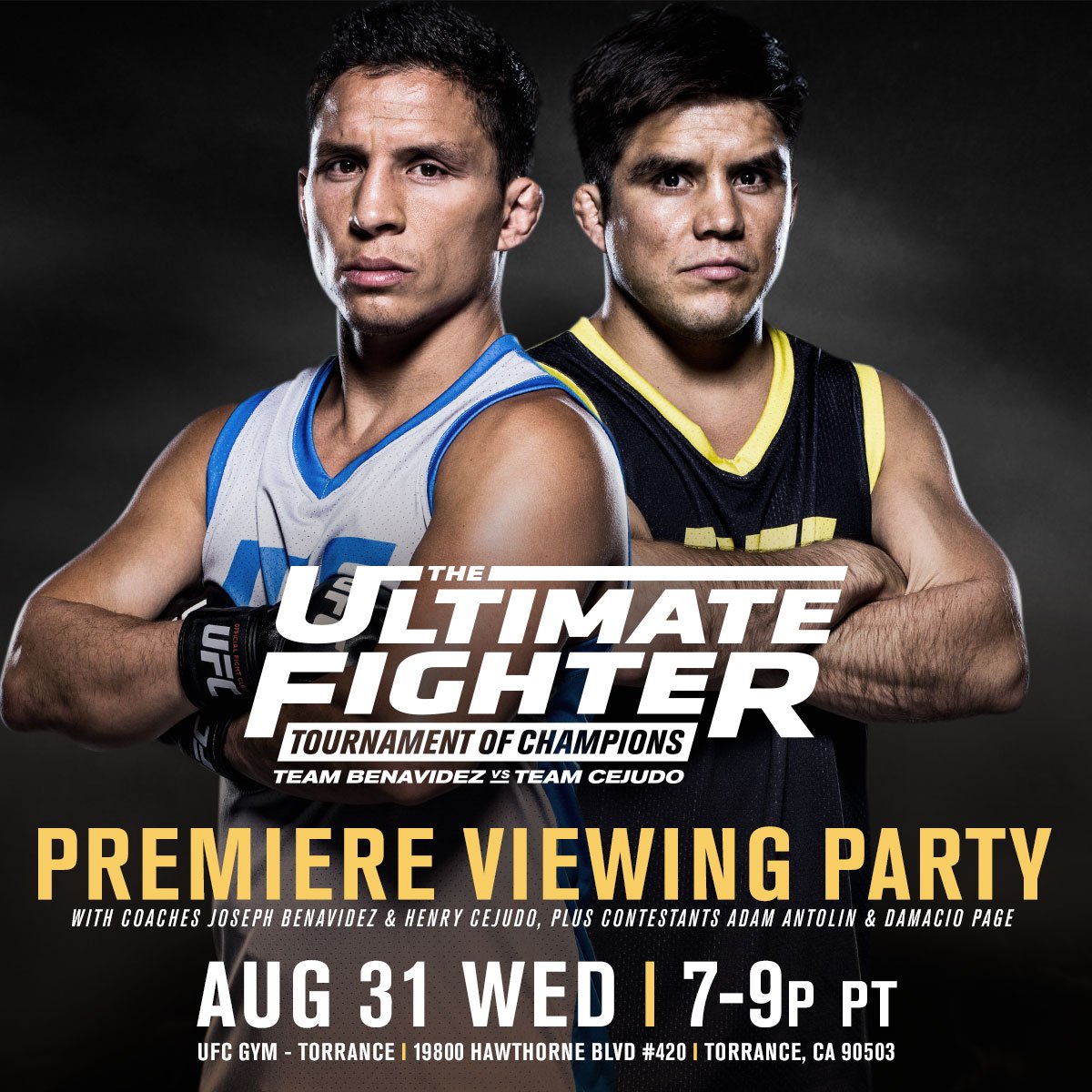 The UFC ended yet another season of the Ultimate Fighter with a Flyweight Title showdown between pound for pound king Demetrious "Mighty Mouse" Johnson (25-2-1 Flyweight Champion) and this season's winner Tim Elliott (10-7-1). The Ultimate Fighter season was one of the most memorable with the amount of finishes in the fights inside the house. The coach's from the season also went head to head as Joseph Benavidez (25-4 #1 Ranked Flyweight) took on Henry "The Messenger" Cejudo (10-2 # 2 Ranked Flyweight). Despite a lot of decision, this was still a very entertaining card that saw some really good fights and one of the weirdest endings in MMA history.
Las Vegas and the UFC fans got a great show no matter the outcome let's take a look at the fights.
The featured prelim we looked at was the showdown between Ryan "The Wizard" Hall (6-1) and former Lightweight Title contender Gray Maynard (13-7-1). The round started with Ryan Hall immediately looking for the rolling leg lock and was unable to convert. One the feet Maynard got the better of the exchanges while Hall continuously looked to try and get the fight to the ground. At one point Hall had a potential leg lock that he could not close. Maynard was clearly getting frustrated with the way Hall was trying to get the fight to the ground. In Round 2 Hall continued to use body and head kicks to keep his space. Maynard continued to get frustrated with Ryan Hall who continued to look to pull guard and get the fight to the ground. Despite the fact that the crowd may not have been fans of the way Hall approached the fight and his tactics of constantly looking to get to the 50/50 position and look for a leg he continued to do so. A big hook kick from Hall stuns Maynard for a second but he continued to push forward. Hall continued to land kicks at will almost and again Hall goes to the ground where both fighters proceed to flip each other the bird. A rolling takedown leads to Hall looking for an illegal strike that was not seen by the ref. Gray Maynard just never engaged on the ground and refused to enter the guard on the floor. The bell sounds and Hall looks to touch gloves and an obviously frustrated Gray Maynard wanted ZERO to do with the sign of sportsmanship. The fight ended up in the hands of the judges who scored it for Ryan Hall via unanimous decision despite the crowd's reaction. It will be interesting to see who they give Hall next considering his style may not be the most entertaining to the common fan, but he is dangerous on the mat and showed that if he can keep the distance he can work his way to victory. For Maynard, this really was a fight that did not show anything as far as future goes. In the past people had questioned if Gray Maynard was finished, but we did not really see anything to say that in this trip to the Octagon.
The main card kicked off with Brandon "The Assassin Baby" Moreno (13-3 #12 Ranked Flyweight) up against Ryan "Baby Face" Benoit (9-5). Moreno took control in the beginning of the first round using his grappling and clearly improved striking to keep Benoit at bay. With a minute left Benoit landed a huge body kick that Moreno continued to walk forward through, but clearly it hurt him. The fighters continued to trade hands, and Moreno landed a good left as the round came to an end. The second round started with a shot for a takedown by Benoit that was stuffed after a long attempt. Moreno's head movement and counter strikes were working well until a giant left hook from Benoit that put Moreno down for a second, but he immediately popped up and continued to trade. Moreno took a shot for a takedown and was able to pick up and carry Benoit across the Octagon and slam him down and was looking to keep this fight where he had the advantage. Moreno ended the round in the top position landing some solid ground and pound. Benoit stuffed a minute long takedown attempt and brought the fight back to the center of the Octagon. That is where Moreno set the tone for the rest of the round with 3 stiff straight right hands. Moreno used his grappling and wrestling to continue to better his position. Both fighters went out swinging at the horn and left it to the judges who scored it 29-28, 29-28, and 28-29 for a split decision victory for Brandon Moreno. For Moreno that is 2 wins in his 2 UFC fights and you would have to expect that another ranked opponent would be in his future. At 23 years old Moreno is a great prospect for this Flyweight division , and one would have to believe his experience in the Ultimate Fighter house has made the difference. For Benoit, his power will keep him in every fight and there are for sure some interesting Flyweight matchups in his future.
The only females on the main card were up next as Sara McMann (10-3 #7 Ranked Women's Bantamweight) went up against Alexis Davis (16-7). The fight quickly went to the ground with Sara McMann in the top position. McMann was being controlled rfom the bottom by Davis whose guard was very controlling. McMann began to rain down heavy elbows that opened up a cut. The round ended however with Alexis Davis trapping McMann in a modified triangle and landing huge elbows to her head. The second round began and within 30 seconds a judo throw from McMann put Davis again on the bottom. McMann worked from half guard throughout the round and eventually was able to push herself into a very opportune position. McMann worked herself into a head and arm choke and finally succeeded in passing to the other side and fully locking it in until Davis is forced to tap. Sara McMann made a statement with the finish over Davis and you have to think that a top 5 opponent for McMann would be up next. For Davis, her first fight back since giving birth and missing a year and a half inside the Octagon may have ended in disappointment, but she showed that she is still very talented and will be a force to contend with in the UFC's Women's Bantamweight Division.
The UFC's Light Heavyweight Division was up next when Ion "The Hulk" Cutelaba (12-3) took on Jared "The Killa Gorilla" Cannonier (9-1). These two wasted almost zero time trading heavy hands with Cutelaba getting the better of the early exchanges. Cannonier was not to be outdone landing a big right that left swelling on Ion's right eye. Cutelaba landed a takedown and ended up on top landing some good ground and pound shots. Cannonier made it back to the feet after a minute or so and then again got thrown to the ground by Cutelaba. The second round kicked off with Cannonier starting to land some heavy punches, but it was met with a takedown from Cutelaba. Cannonier worked his way back to the feet and landed a few really heavy shots that clearly stunned Cutelaba. Cutelaba in desperation took a shot a got Cannonier back to the ground briefly. After battling back up to the feet Cannonier ended up on top on the ground as the round came to an end. Both men came out swinging in round three and Cannonier was getting the better of every exchange. A quick takedown from Cutelaba, but getting them right back up to the feet. Cannonier landed some giant shots that Cutelaba somehow is able to stay standing from. A clinch battle ensued and as the round hit the last minute Cannonier was begging with his hands down for Cutelaba to throw. Cannonier ate a huge punch walked right through it and asked for more. This fight somehow went the distance and the judges came back with 29-28, 29-28, and 29-28 for Jared Cannonier via unanimous decision. Cannonier is an intriguing prospect in a wide open Light Heavyweight division. This was his first fight moving down from Heavyweight and he looked very impressive. Expect a step up in competition for his next fight. Cutelaba is still only 23 and with his chin and power has a bright future ahead of him.
The next fight featured Jake" The Juggernaut" Ellenberger (31-12 #15 Ranked Welterweight) going up against Jorge "Gamebred" Masvidal (31-11). These two got right into it and Masvidal got the better of the exchanges early. Heavy body shots and a few great combinations had Ellenberger on the verge of being stopped. In fact, Herb Dean almost stopped the fight until Ellenberger battled himself up off the ground. Ellenberger came jumping towards Masvidal and in an awkward landing his left foot got stuck through the fence. The fight was then ended as a TKO. This was one of the most confusing fight endings in UFC history. In the books, this goes down as a victory for Masvidal, but it would be almost certain that this one might need to get ran back.
The Co-Main event of the evening was up next with this season's coaches of the Ultimate Fighter Joseph Benavidez (25-4 #1 Ranked Flyweight) going up against Henry "The Messenger" Cejudo (10-2 # 2 Ranked Flyweight). For anyone who watched the season and obviously the lead up to this fight, it was clear there is a real dislike between these two. After some early exchanges, Cejudo landed a big right hand that stunned and dropped Benavidez. A beautiful body kick from Cejudo puts Benavidez to a knee and then a kick to the groin put a pause in the action. It was almost immediate that Cejudo landed yet another kick to the groin that led to a point being deducted by referee Yves Lavigne. Benavidez started to get his footing after the second groin shot. He was winning some of the exchanges and successfully evaded takedown attempts sent his way from Cejudo. A very exciting first round came to an end and led to the next round where both fighters traded a ton of strikes. They both landed big combinations throughout and it may have been one of the hardest rounds to score of the night. This one, because of the point deduction, came down to the all-important third and final round. Cejudo continued to move forward, but in the exchanges in the third round, Benavidez was getting the better of the interactions. It was another extremely razor close round with the fighters honestly going for broke in the last 2 minutes. The fight ended up in the hands of the judges who scored it 29-27 Cejudo, 30-26 Benavidez, and 29-27 Benavidez. Giving the split decision to Joseph Benavidez. This is going to be very interesting in the Flyweight Division and with this type of win Benavidez absolutely can make an argument to be right back in line for the next Flyweight Title shot. Cejudo showed that he is so much more improved on the feet and that he can absolutely hang with anyone in this division. These two most certainly could see each other again down the road and it will most likely be just as entertaining.
Finally, we get the Main Event of the night where Demetrious "Mighty Mouse" Johnson (25-2-1 Flyweight Champion) went up against the winner of Season 24 of The Ultimate Fighter Tournament of Champions Tim Elliot (10-7-1). Demetrious Johnson was looking to defend his title for the 9th consecutive time and remain the only Flyweight Champion in UFC history. Elliot came out fast and furious throwing a ton of unorthodox shots. Demetrious was able to weather with nothing serious landing and then Johnson shot for a takedown that Elliot ate and then reversed into a top half guard position. Elliot locked in a guillotine that looked very tight and was transitioned into a Darse choke. Johnson somehow weathered the storm and eventually made his way out of the submission attempt. Johnson threw a guillotine choke of his own at Elliot. Elliot landing a flurry of body punches against the cage and a big left hook effects Johnson. With 1 minute left in the round Elliot scores a huge takedown and finished the round in the dominant position. Round two started with the fighters trading some blows and Johnson shot in for a takedown that was successful. Elliot narrowly escaped a rear naked choke attempt after he gave up his back to Mighty Mouse. Johnson dominated the round keeping Elliot at bay on the ground despite the last seconds where Elliot ended up back on top. Round 2 was great for Johnson who really showed his well-roundedness. Round three again saw DJ go in for the takedowns and score them. On one exchange, however, Elliot was landing a large group of shots to Mighty Mouse's head. Johnson, however, seems unphased and just continued to keep Elliot on his back. There is just more of the same from Johnson in the 4th with a huge takedown and just ground control. In a huge move of the round, Johnson gained the Crucifix position and just unloaded on Elliot. Johnson just continued to shoot for submission finishes and Elliot just continued to manage to stay out of these submissions and ended the round getting back to his feet. The final round kicked off with a touching of gloves and Elliot trying to move forward. Elliot scored a big takedown early and it was reversed very quickly to Johnson now controlling on the mat. Demetrious Johnson dominated this fight after round 1 and was able to walk away with the unanimous decision yet again for his 9th straight title defense. IF we learned anything it was that Tim Elliot is one tough competitor and will be in the mix in this Flyweight division. Demetrious Johnson again proved that even through early adversity he is the pound for pound king and one of the best fighters in UC history. The versatility alone in his game puts him right at the top.
The UFC capped off a great season of the Ultimate Fighter with Saturday's slate of fights. A lot of great matchups will spring up from this and the Flyweight division continues to get more intriguing. If the goal for the UFC was bringing attention to the Flyweight division, which some casual fans can overlook, they certainly exceeded every expectation. There are so many matchups that will come from tonight in the 125lb division and every fan can look forward to that. The UFC stays busy with 2 more events next week. The UFC Fight pass exclusive card on Friday and then UFC 206 live from Toronto, Canada with the Interim Featherweight Title on the line.